Manito Shopping Center
Facility Site ID:
9406814
Cleanup Site ID:
1654
---
Public Comment Period May 01, 2023-May 31, 2023
Draft Periodic Review Report Available
Ecology invites you to review and comment on the draft second periodic review report. We visited the site March 31, 2023, and found that the cleanup remains effective.
Review the draft report
Online: Periodic Review Report
At Ecology's Eastern Regional Office - N. 4601 Monroe St., Spokane, WA. Please call 509-329-3415 to make an appointment.
Submit comments via mail or email by May 31:
Ted Uecker, ted.uecker@ecy.wa.gov
N. 4601 Monroe St., Spokane, WA 99205-1265
Or use the online comment form
Next steps
Ecology will review all comments received during the comment period and revise the report if needed. If no significant changes are made, the periodic review will become final. If significant changes are made, an additional public comment period will be held. We will hold an online public meeting if 10 or more people request it.
Cleanup Complete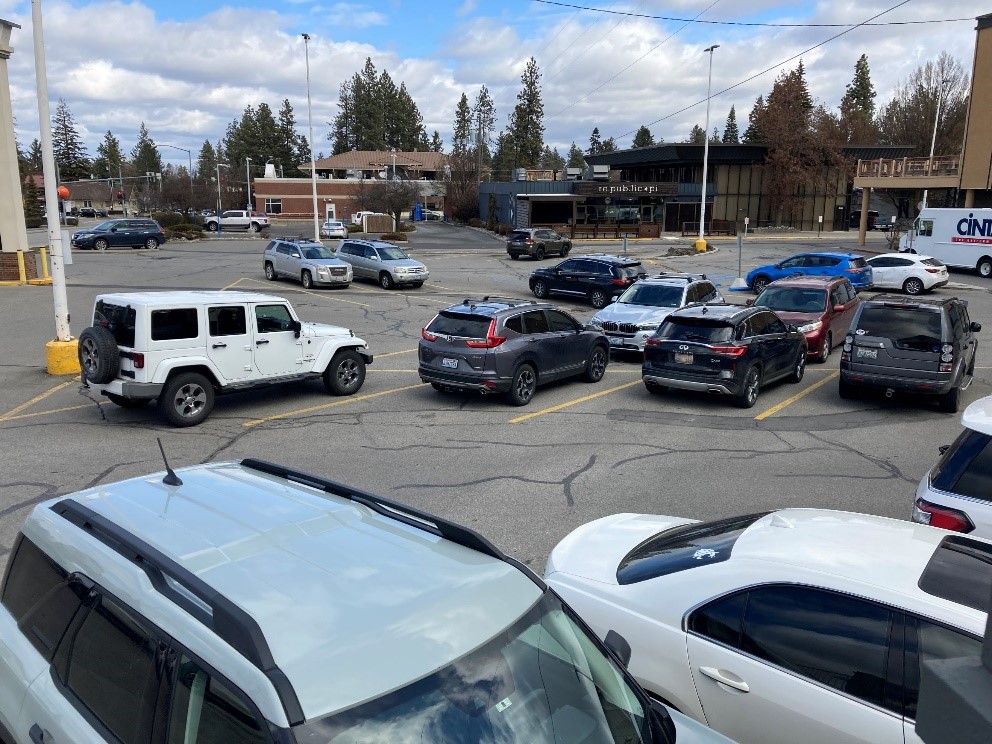 Following soil and groundwater sampling, Ecology determined no further cleanup is required. People are protected from exposure to remaining soil contamination because it is contained under the shopping center parking lot.
We inspect the parking lot about every five years to ensure the cleanup still protects people and the environment.
Site History
A dry-cleaning facility was on the property from about 1940 to 1947 and 1955 to 1969. A gas station was on the property directly southeast from about 1940 to 1960.

The site has been a parking lot since about 1969 when a department store was built east of the site. The parking lot serves a variety of businesses in the shopping center.
Site Investigation & Cleanup
From 2007-2008, soil samples were taken to investigate potential contamination from the former dry cleaner and gas station. Results showed limited amounts of polycyclic aromatic hydrocarbons (PAHs) and solvents were in soil at levels requiring cleanup.
Following a site hazard assessment in 2008, Ecology decided the asphalt and concrete parking lot prevented direct contact or ingestion of contaminated soils so no soil cleanup was necessary. However, we filed an environmental covenant to document the contamination and required groundwater monitoring to see whether soil contamination was affecting groundwater quality.
Groundwater was sampled from three wells in September 2007, August 2008, November 2008, February 2009, and April 2009. None of the suspected contaminants were detected at levels requiring cleanup.
Periodic reviews
Ecology completed periodic reviews in 2023 and 2015 and found the parking lot in adequate condition to continue preventing exposure to contaminated soil. The environmental covenant remains in place. The property owner is responsible for regularly inspecting and maintaining the parking lot surface.
Voluntary Cleanup Program
This site was cleaned up under our Voluntary Cleanup Program, which provides technical help to owners of contaminated sites.
Voluntary Cleanup Program customers pay fees to cover our costs for technical help and reviewing cleanup reports. Sites in this program must meet the same cleanup standards as the sites Ecology manages under legal orders.
Site use restrictions called institutional controls are in effect
Institutional controls can be fences, signs, or restrictions on how the property is used. For instance, an institutional control may prohibit installing drinking water wells or disturbing a protective cap that isolates contamination. These restrictions keep the contamination contained and keep people from being exposed to the contamination. The controls are usually listed in environmental covenants recorded with the county.
Periodic reviews are required when institutional controls are required at a site. Ecology conducts reviews to make sure the controls remain effective and the cleanup still protects human health and the environment. We conduct periodic reviews about every five years.
Environmental Covenant
County Recording #:
5797832
County Recording Date:
6/2/2009
Restrictions/Requirements
Prohibit Soil Disturbance
Restricted Media
Voluntary Cleanup Program
1
There may be more documents related to this site. To obtain documents not available electronically, you will need to make a
public records request.
Places to see print documents
Eastern Regional Office

N 4601 Monroe St

Spokane, 99205-1265

Please schedule an appointment to view print documents at this location.
| Contaminant Type | | | | | | |
| --- | --- | --- | --- | --- | --- | --- |
| Halogenated Organics - Halogenated Organics | R | B | | | | |
| Non-Halogenated Organics - Polycyclic Aromatic Hydrocarbons | R | B | | | | |
| Other Contaminant - Conventional Contaminants, Organic | R | | | | | |
S

Suspected

C

Confirmed Above Cleanup Levels

B

Below Cleanup Levels
RA

Remediated-Above

RB

Remediated-Below

R

Remediated
This contaminant list was based on our best information at the time it was entered. It may not reflect current conditions at the site.