US Army Camp Bonneville
Facility Site ID:
69965472
Cleanup Site ID:
11670
---
What's New?
Ecology's Camp Bonneville team held an online listening session on January 19, 2022. We provided a
brief presentation
on site background and current status, then heard comments and questions from the public. You can watch a recording of the listening session on
YouTube
.
You can find our responses to the questions we received during the listening session in a
Response to Comments Report
.
Subscribe to our new email list for project updates
If you'd like to receive future email updates from Ecology about our Camp Bonneville work,
sign up here
. You can opt in or out of receiving these emails at any time and share the signup link with others who may be interested.
Site Description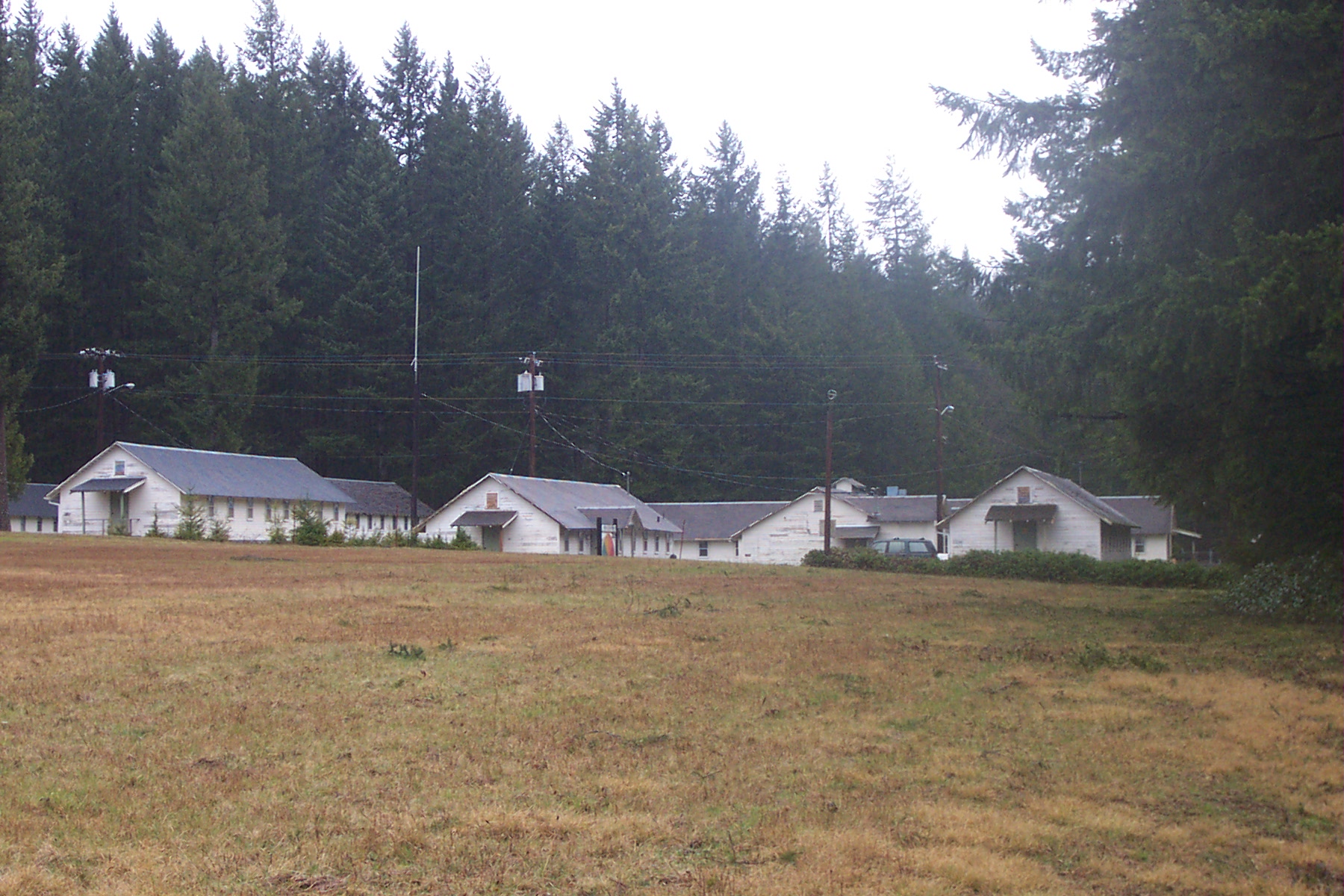 The Camp Bonneville Military Reservation Site (Camp Bonneville) is located 5 miles from Vancouver in Clark County on approximately 4,000 acres (six square miles), including 800 acres of state-owned land. The property is mostly undeveloped and over half is forested land.
The Department of Defense (DOD) owned and operated Camp Bonneville for firing range practice and training from 1910 to 1995. The camp was officially closed in 1995. Since then, investigations and cleanup have been ongoing to prepare the site for reuse after cleaned up is completed.
Contaminants identified at the site include: unexploded ordnance, explosive compounds, munitions fragments, lead, petroleum products, pesticides and volatile organic compounds in the soil, and perchlorate and explosive chemicals in the groundwater.
For cleanup purposes, Camp Bonneville has been divided into five remedial action units (RAUs). These units are primarily grouped by the nature of the particular release, not by physical boundaries. Information about the specific RAUs can be found by clicking on the links that follow. When cleanup is completed for an RAU, we have linked a no further action letter that describes why we have made that determination.
Check the "Documents" section below, or on the specific RAU page, for documents that pertain to these actions. Additional information is available at the document repositories listed on this page.
RAU

Cleanup
Site ID

Description

Cleanup Status

RAU -1
Hazardous
Waste
1513
Consists of 20 areas where
hazardous substances (other than military ammunition) have been found.
Cleanup is complete
RAU - 2A
(Small Arms Ranges)
3867
Covers lead contamination at 21 small arms ranges.
Cleanup is complete
RAU - 2B
Munitions Disposal Areas
2522

Consists of explosive chemical contamination at two demolition areas (demolition areas 2 and 3) where ammunitions were either burned or detonated.

Cleanup is complete
RAU - 2C Munitions Disposal Area/Solid Waste
861
Covers explosive chemicals and perchlorate contamination at a landfill area that was also used to burn or detonate ammunition including Demolition Area 1/Landfill 4.
In progress. The soil removal action is complete. Groundwater investigation and cleanup planning is underway. Monitoring continues.
RAU - 3
Unexploded Ordnance and munitions
2216
Includes the entire site where unexploded ordnance and munitions are located. Cleanup was completed in four phases.
Cleanup is complete

Phase 1
Phase 2
Phase 3
Phase 4
Site Status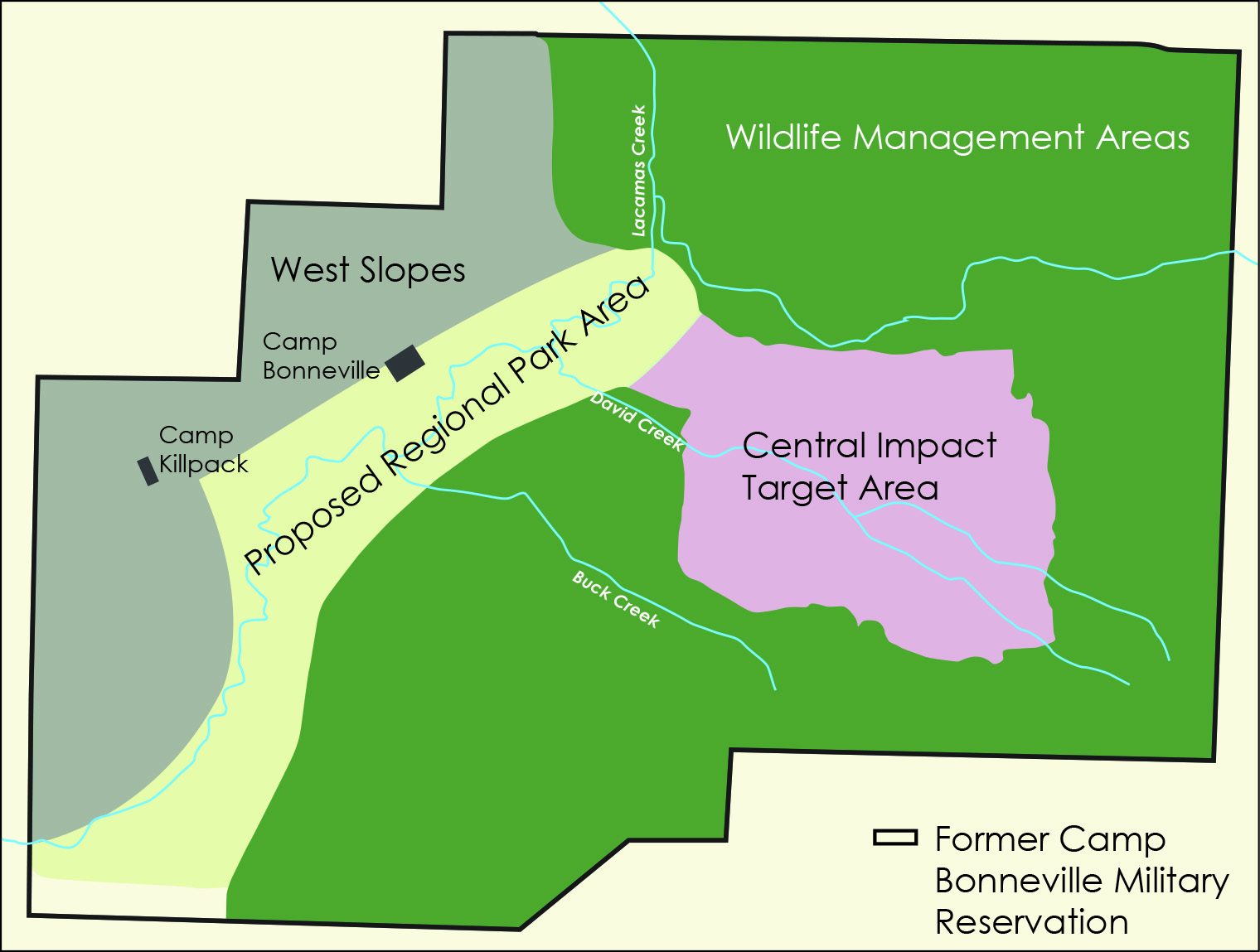 From 2003 to 2006, the US Army conducted investigations and cleanup actions at Camp Bonneville under an Ecology-issued Enforcement Order. In 2006, the US Army transferred the Camp Bonneville deed to Clark County. The county is coordinating cleanup under a 2012 Amended Prospective Purchaser Consent Decree (Decree) with Ecology. The Decree requires cleanup be completed at the entire Camp Bonneville Site. The US Army is responsible for funding cleanup activities at Camp Bonneville.

The Decree outlines the investigation and cleanup actions, and provides the legal framework and assurances that the project will be completed as planned for the entire site. Information about this Decree is available on this website and at the information center located at the Vancouver Community Library located at 901 C Street (4th floor), or by appointment only at the Camp Bonneville Office (23201 NE Pluss Road) by contacting (360)635-3890 or erik.harrison@clark.wa.gov.
State Environmental Policy Act
5
There may be more documents related to this site. To obtain documents not available electronically, you will need to make a
public records request.
Places to see print documents
Headquarters

300 Desmond Dr SE

Lacey, 98503

Please schedule an appointment to view print documents at this location.
Vancouver Public Library

901 C Street

Vancouver, 98660

This location may only have print documents available during open comment periods.
Camp Bonneville Office (by appointment)

23201 NE Pluss Road

Vancouver, 98682

This location may only have print documents available during open comment periods.
| Contaminant Type | | | | | | |
| --- | --- | --- | --- | --- | --- | --- |
| Metals - Metals - Other | C | C | | | | |
| Pesticides - Halogenated Pesticides | | C | | | | |
| Non-Halogenated Organics - Non-Halogenated Solvents | | C | | | | |
| Halogenated Organics - Halogenated Solvents | | C | | | | |
| Other Contaminant - Conventional Contaminants, Organic | C | C | | | | |
| Halogenated Organics - Other Halogenated Organics | C | C | | | | |
| Non-Halogenated Organics - Other Non-Halogenated Organics | C | C | | | | |
| Reactive Wastes - Other Reactive Wastes | C | C | | | | |
| Non-Halogenated Organics - Petroleum-Other | C | C | | | | |
| Pesticides - Non-Halogenated Pesticides | C | C | | | | |
S

Suspected

C

Confirmed Above Cleanup Levels

B

Below Cleanup Levels
RA

Remediated-Above

RB

Remediated-Below

R

Remediated
This contaminant list was based on our best information at the time it was entered. It may not reflect current conditions at the site.