Burlington Northern Othello
Facility Site ID:
558
Cleanup Site ID:
1909
---
Public Comment Period April 18, 2022-May 17, 2022
Draft 5-Year Periodic Review Report
Ecology invites you to review and comment on the fourth periodic review for this site. We complete a periodic review at least every 5 years after cleanup construction is complete at a site when institutional controls are part of the cleanup. The purpose of the review is to evaluate site conditions to ensure people and the environment are protected.
Review the draft report
Online: 5-Year Periodic Review Report
At Ecology's Eastern Regional Office: 4601 N. Monroe St., Spokane, WA. Please call 509-329-3415 to make an appointment.
Submit comments online, via mail or email by May 17
Ted Uecker, ted.uecker@ecy.wa.gov
N. 4601 Monroe St., Spokane, WA 99205-1265
Online comment form
Next steps
Ecology will review all comments received during the comment period and update the periodic review if needed. If no significant changes are made, the periodic review will become final. If significant changes are made, an additional public comment period will be held. We will hold an online public meeting if 10 or more people request one.
Site Status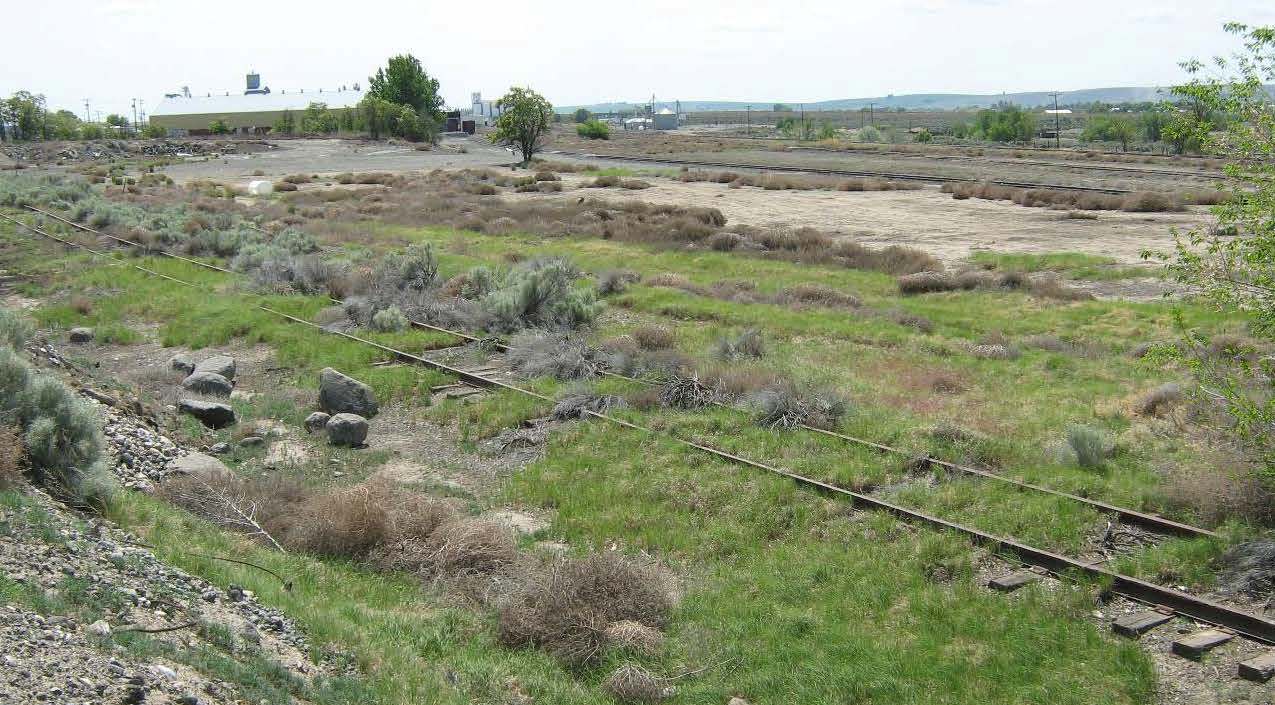 The Burlington Northern Othello site was
removed from the Hazardous Sites List
in 2003 as part of our first periodic review following cleanup construction in 1997. We verified the cleanup actions were still effective in 2008, 2012, and 2022.
A restrictive covenant is recorded for the site to notify prospective purchasers of the remaining contained soil contamination. Groundwater standards have been met. No further cleanup is required.
Site History
The site was built as a railroad yard in 1908 and was used for refueling steam and electric locomotives and later diesel locomotives. BNSF Railway Company purchased the property in 1980 and continued operations until 1982. Columbia Basin Railroad now uses the property to load grains into railroad cars.
Total petroleum hydrocarbons (TPH)
were found in soils and groundwater as a result of locomotive refueling activities.
Cleanup included capping contaminated soil that could not be removed with asphalt, diverting groundwater around contaminated soil, and filing the restrictive covenant that ensures the integrity of the cleanup action and protects people from exposure.
Site use restrictions called institutional controls are in effect
Institutional controls can be fences, signs, or restrictions on how the property is used. For instance, an institutional control may prohibit installing drinking water wells or disturbing a protective cap that isolates contamination. These restrictions keep the contamination contained and keep people from being exposed to the contamination. The controls are usually listed in environmental covenants recorded with the county.
Periodic reviews are required when institutional controls are required at a site. Ecology conducts reviews to make sure the controls remain effective and the cleanup still protects human health and the environment. We conduct periodic reviews about every five years.
Environmental Covenant
County Recording #:
247302
County Recording Date:
12/3/1997
Covenant Restrictions
Prevent the Reuse or Relocation of Site Soil
Restrict All Ground Water Extraction/Well Installation
Restrict Land Use
Media Restrictions
There may be more documents related to this site. To obtain documents not available electronically, you will need to make a
public records request.
Places to see print documents
Eastern Regional Office

N 4601 Monroe St

Spokane, 99205-1265

Please schedule an appointment to view print documents at this location.
| Contaminant Type | | | | | | |
| --- | --- | --- | --- | --- | --- | --- |
| Metals - Metals Priority Pollutants | R | R | | | | |
| Non-Halogenated Organics - Petroleum Products-Unspecified | R | R | | | | |
| Non-Halogenated Organics - Polycyclic Aromatic Hydrocarbons | R | R | | | | |
S

Suspected

C

Confirmed Above Cleanup Levels

B

Below Cleanup Levels
RA

Remediated-Above

RB

Remediated-Below

R

Remediated
This contaminant list was based on our best information at the time it was entered. It may not reflect current conditions at the site.