Totem Pole Restaurant
Facility Site ID:
21515785
Cleanup Site ID:
5686
---
Public Comment Period September 22, 2022-October 23, 2022
Third Periodic Review
Ecology invites your comment on the draft third periodic review report for the Totem Pole Restaurant site.
Environmental cleanup is complete at the site and the draft periodic review report shows the cleanup work remains effective in protecting the health of people and the environment.
In the past, there was a gasoline station on the site. Activities at the station leaked gasoline into the soil.
Contaminated soil was excavated and removed from the site. Not all of the contaminated soil was removed because it was located close to the side of the building. The building and asphalt pavement cover the contaminated soil and prevent exposure of people and the environment to the contamination.
Following cleanup, an environmental covenant was recorded for the property in 2000 and we determined no further cleanup action was needed at the site in 2006.
Ecology periodically reviews conditions about every five years to ensure continued long-term effectiveness of the cleanup action.
Ecology visited the site on July 14, 2021. The building and asphalt appear to be in satisfactory condition and no repair, maintenance, or contingency actions have been required.
We will consider your comment. If there is no significant new information submitted during the comment period, then we will finalize the report.
For tips on submitting comments, visit our commenting tips webpage.
RELEVANT DOCUMENT -- Draft Third Periodic Review Report.
Site Description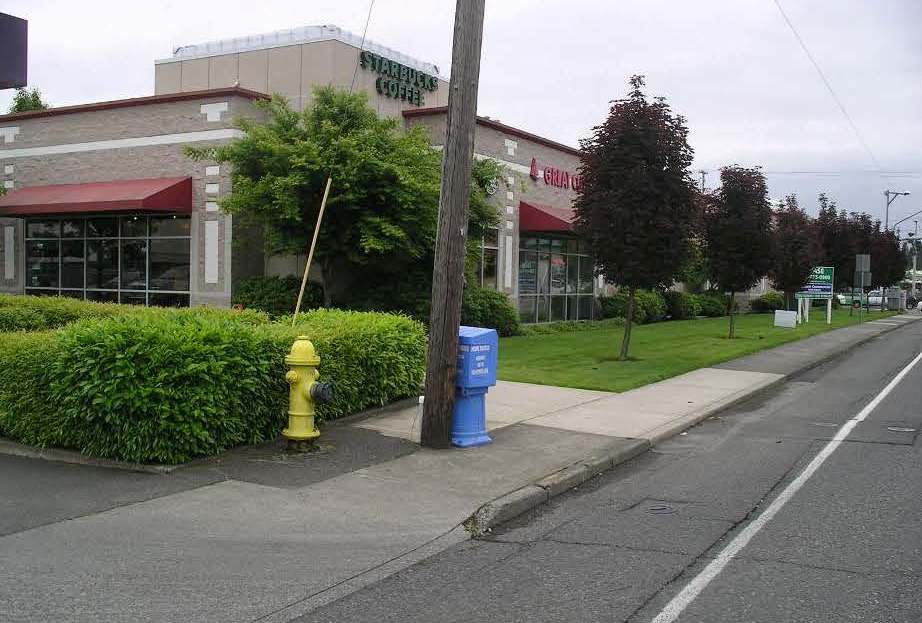 The site is at 7720 NE Highway 99, where Highway 99 crosses NE 78th Street. Today, the site is home to several retail businesses. The area surrounding the site is mostly commercial.

Before 1960, there was an auto service station on the site. The underground storage tank system at the station likely released petroleum and related chemicals into soil and groundwater.



Site Cleanup
In 2000, about 2,020 tons of petroleum-contaminated soil was excavated and removed from the site and disposed at landfills. Some soil contamination could not be removed because it was located next to the building. The contaminated soil is covered with asphalt pavement.
Groundwater conditions were monitored from March 2001 through January 2006. Monitoring was not required after 2006 because all contaminant levels were below cleanup levels.
The site owner recorded an environmental (restrictive) covenant for the site in 2000 because contaminated soil remains on the property. Among the covenant's restrictions, it requires the current and future property owners take care of the asphalt covering the contaminated soil and make sure it is in good shape and repair. The covenant restricts any activity that may result in release or exposure to petroleum-contaminated soil or groundwater without written approval from Ecology.
In 2006, Ecology determined that no further cleanup action was required at the site.
About every five years, Ecology reviews conditions at the site to make sure it still protects human health and the environment.
Voluntary Cleanup Program
This site was cleaned up under our Voluntary Cleanup Program, which provides technical help to owners of contaminated sites.
Voluntary Cleanup Program customers pay fees to cover our costs for technical help and reviewing cleanup reports. Sites in this program must meet the same cleanup standards as the sites Ecology manages under legal orders.
Site use restrictions called institutional controls are in effect
Institutional controls can be fences, signs, or restrictions on how the property is used. For instance, an institutional control may prohibit installing drinking water wells or disturbing a protective cap that isolates contamination. These restrictions keep the contamination contained and keep people from being exposed to the contamination. The controls are usually listed in environmental covenants recorded with the county.
Periodic reviews are required when institutional controls are required at a site. Ecology conducts reviews to make sure the controls remain effective and the cleanup still protects human health and the environment. We conduct periodic reviews about every five years.
Environmental Covenant
County Recording #:
3259370
County Recording Date:
10/10/2000
Covenant Restrictions
Prohibit Soil Disturbance
Restrict All Ground Water Extraction/Well Installation
Restrict Land Use
Media Restrictions
There may be more documents related to this site. To obtain documents not available electronically, you will need to make a
public records request.
Places to see print documents
Southwest Regional Office

300 Desmond Dr SE

Lacey, 98503-1274

Please schedule an appointment to view print documents at this location.
| Contaminant Type | | | | | | |
| --- | --- | --- | --- | --- | --- | --- |
| Non-Halogenated Organics - Petroleum-Other | C | C | | | | |
S

Suspected

C

Confirmed Above Cleanup Levels

B

Below Cleanup Levels
RA

Remediated-Above

RB

Remediated-Below

R

Remediated
This contaminant list was based on our best information at the time it was entered. It may not reflect current conditions at the site.