Black Sand Beach
Facility Site ID:
16327
Cleanup Site ID:
2036
---
Slag Removed And Replaced With Clean Sand November 2010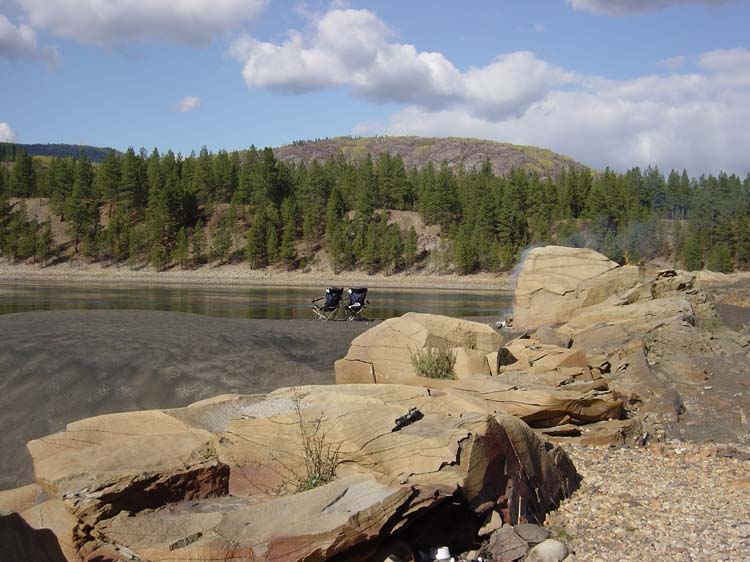 Black Sand Beach is next to state-owned public land along the upper Columbia River about 3 miles south of the U.S.-Canadian border and about 7-8 miles north of Northport, Washington.

About 9,100 tons (6,300 cubic yards) of sediments containing granulated slag were excavated from Black Sand Beach. Slag is an industrial waste and contains hazardous substances including zinc, lead, copper, and other metals that cannot be removed by normal processing of the materials. Metals in slag harm the health of the river and aquatic life. Removing slag protects the ecological environment, the health of the river, and aquatic life.

Clean fill material was used to establish the new beach, and the slag was hauled to Trail, British Columbia, for recycling. The access road used during construction was restored to look more like its pre-construction state.
The project was completed under an agreement between Ecology and Teck American Incorporated. Teck funded the work.

The public provided important input during the project that helped guide several of the technical decisions affecting the cleanup. Local companies were used for about 50 percent of the project work which provided a positive economic impact to the community.

Thank you to everyone involved in making the project a success!
Annual Performance Monitoring
Teck agreed to monitor the stability of the replaced beach sand for three years in the
performance monitoring plan
. Performance monitoring reports were completed annually from 2011 - 2013 to document changes in the Black Sand Beach, including sediment erosion and/or re-deposition, since the project was completed in October 2010. Learn more by viewing the annual reports:
State Environmental Policy Act
2
There may be more documents related to this site. To obtain documents not available electronically, you will need to make a
public records request.
Places to see print documents
Eastern Regional Office

N 4601 Monroe St

Spokane, 99205-1265

Please schedule an appointment to view print documents at this location.
Northport Community Library

311 Columbia Avenue

Northport, 99157

This location may only have print documents available during open comment periods.
Colville Public Library

195 South Oak Street

Colville, 99114

This location may only have print documents available during open comment periods.
Kettle Falls Public Library

605 Meyers Street

Kettle Falls, 99141

This location may only have print documents available during open comment periods.
| Contaminant Type | | | | | | |
| --- | --- | --- | --- | --- | --- | --- |
| Metals - Metals - Other | RB | | | | | |
| Metals - Arsenic | RB | | | | | |
| Metals - Lead | RB | | | | | |
S

Suspected

C

Confirmed Above Cleanup Levels

B

Below Cleanup Levels
RA

Remediated-Above

RB

Remediated-Below

R

Remediated
This contaminant list was based on our best information at the time it was entered. It may not reflect current conditions at the site.