Inland Empire Paper
Facility Site ID:
81484342
Cleanup Site ID:
4681
---
Site Background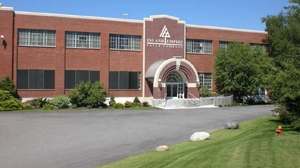 The Inland Empire Paper (IEP) newsprint manufacturing plant has operated since 1911. On January 31, 2001, a small pool of oil was observed in a pipe tunnel beneath a 20,000-gallon fuel oil storage tank. The tank was located in a concrete vault at the IEP plant. In February 2001, sludge was removed from the tank, and the tank was removed. 

Contaminated soil was removed as deep as 14 feet. About 100 cubic yards of soil were removed. Additional contaminated soil was found next to the boiler house building that could not be removed due to potential damage to the building.
Three monitoring wells were installed near the tank. Two groundwater sampling events were conducted, and samples were analyzed for diesel and heavy-oil range petroleum hydrocarbons (TPH-D and TPH-O, respectively). Results from both events indicated that samples collected from monitoring wells MW-1, MW-2, and MW-3 did not contain detectable concentrations of TPH-D or TPH-O.

A restrictive covenant was filed on the property in 2003 because of the remaining soil contamination. The covenant shows the type and location of contamination and limits activities such as digging, drilling, or other actions that could create exposure pathways to the remaining contaminants. The restriction provides long-term protection for the cleanup and was necessary for the site to receive a no further action determination in 2003.
Periodic Reviews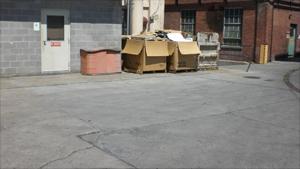 Ecology conducts a periodic review at least every 5 years after the initiation of a cleanup action at a site, as required by the 
Model Toxics Control Act
. The purposes of the review are to evaluate site conditions after cleanup is complete and ensure human health and the environment continue to be protected.
Based upon the
site visit conducted on July 8, 2010
, the building and asphalt cover continue to eliminate exposure pathways (ingestion, contact) to contaminated soils. The asphalt appears in satisfactory condition and no repair, maintenance or contingency actions have been required. The site continues to operate as a newsprint manufacturing plant. The restrictive covenant ensures the long-term integrity of the remedial action.
Voluntary Cleanup Program
This site was cleaned up under our Voluntary Cleanup Program, which provides technical help to owners of contaminated sites.
Voluntary Cleanup Program customers pay fees to cover our costs for technical help and reviewing cleanup reports. Sites in this program must meet the same cleanup standards as the sites Ecology manages under legal orders.
Site use restrictions called institutional controls are in effect
Institutional controls can be fences, signs, or restrictions on how the property is used. For instance, an institutional control may prohibit installing drinking water wells or disturbing a protective cap that isolates contamination. These restrictions keep the contamination contained and keep people from being exposed to the contamination. The controls are usually listed in environmental covenants recorded with the county.
Periodic reviews are required when institutional controls are required at a site. Ecology conducts reviews to make sure the controls remain effective and the cleanup still protects human health and the environment. We conduct periodic reviews about every five years.
Environmental Covenant
County Recording #:
4846075
County Recording Date:
2/14/2003
Covenant Restrictions
Ongoing Maintenance of Remedy
Restrict Land Use
Media Restrictions
There may be more documents related to this site. To obtain documents not available electronically, you will need to make a
public records request.
Places to see print documents
Eastern Regional Office

N 4601 Monroe St

Spokane, 99205-1265

Please schedule an appointment to view print documents at this location.
| Contaminant Type | | | | | | |
| --- | --- | --- | --- | --- | --- | --- |
| Non-Halogenated Organics - Petroleum Products-Unspecified | RA | | | | | |
| Non-Halogenated Organics - Polycyclic Aromatic Hydrocarbons | R | | | | | |
S

Suspected

C

Confirmed Above Cleanup Levels

B

Below Cleanup Levels
RA

Remediated-Above

RB

Remediated-Below

R

Remediated
This contaminant list was based on our best information at the time it was entered. It may not reflect current conditions at the site.