Palouse Producers
Facility Site ID:
787
Cleanup Site ID:
4973
---
Site History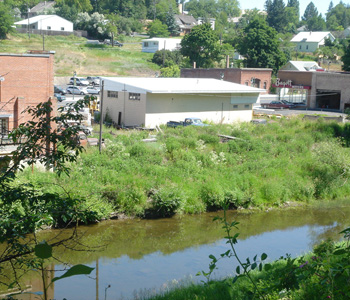 The site was used for over a century for commercial activities serving the agricultural industry (service station, blacksmith, welding shop). Many of the past uses could have contributed contamination.
Conoco operated a service station on the site from 1955 to 1977. During its operation, five above-ground storage tanks and four underground storage tanks were installed. 
In 1977, Palouse Producers began operations and used the facility to fuel vehicles and store and distribute bulk fuel until approximately 1985.
Historical documents show the facility was poorly constructed to contain spills and drips from historical operations and that spills occurred on the site. In addition, tanks and piping appear to have leaked. There is also evidence that these releases may have reached the Palouse River through overland flow or groundwater migration.
Contamination
Past investigations found metals,
petroleum hydrocarbons
, and associated contaminants at the site. The former service station operated by Conoco and later by Palouse Producers is the likely cause of the environmental impacts to soil and groundwater.
Cleanup
By 1992 all above-ground and underground storage tanks were removed from the site. From 1984 to 1985, several efforts were made to clean up petroleum product that had entered the Palouse River from the site.
In the
2011 Cleanup Action Plan
, we selected the following cleanup actions:
Installing and monitoring of three groundwater monitoring wells
Restricting groundwater use at the property and enacting a Soil Management Plan to guide future uses
Removing soil that with contamination levels that exceed standards set to protect people and environment (soil not exceeding these levels remained on-site)
Periodic reviews
A periodic review is conducted at least every 5 years after beginning cleanup at a site when contamination remains there. The purpose of the review is to evaluate site conditions after intital cleanup is complete to ensure people and the environment are protected.
In July 2020, we completed the first
periodic review
and recommended no further cleanup actions. Groundwater monitoring will continue to track cleanup progress. The property has been purchased, and redevelopment may proceed as long as monitoring well access is maintained. The owners are working with us to ensure their plans will protect the cleanup and comply with the environmental covenants.
Site use restrictions called institutional controls are in effect
Institutional controls can be fences, signs, or restrictions on how the property is used. For instance, an institutional control may prohibit installing drinking water wells or disturbing a protective cap that isolates contamination. These restrictions keep the contamination contained and keep people from being exposed to the contamination. The controls are usually listed in environmental covenants recorded with the county.
Periodic reviews are required when institutional controls are required at a site. Ecology conducts reviews to make sure the controls remain effective and the cleanup still protects human health and the environment. We conduct periodic reviews about every five years.
Environmental Covenant
County Recording #:
717004
County Recording Date:
4/16/2013
Covenant Restrictions
Prevent the Reuse or Relocation of Site Soil
Prohibit Soil Disturbance
Restrict All Ground Water Extraction/Well Installation
Restrict Land Use
Media Restrictions
State Environmental Policy Act
1
There may be more documents related to this site. To obtain documents not available electronically, you will need to make a
public records request.
Places to see print documents
Eastern Regional Office

N 4601 Monroe St

Spokane, 99205-1265

Please schedule an appointment to view print documents at this location.
Whitman County Library Palouse Branch

120 East Main Street

Palouse, 99161

This location may only have print documents available during open comment periods.
| Contaminant Type | | | | | | |
| --- | --- | --- | --- | --- | --- | --- |
| Metals - Metals - Other | | C | | | | |
| Metals - Arsenic | C | C | | | | |
| Metals - Lead | C | C | | | | |
| Non-Halogenated Organics - Benzene | C | C | | | | |
| Non-Halogenated Organics - Petroleum-Gasoline | C | C | | | | |
S

Suspected

C

Confirmed Above Cleanup Levels

B

Below Cleanup Levels
RA

Remediated-Above

RB

Remediated-Below

R

Remediated
This contaminant list was based on our best information at the time it was entered. It may not reflect current conditions at the site.