Norseland Landfill
Facility Site ID:
2627
Cleanup Site ID:
761
---
Public Comment Period February 23, 2023-March 24, 2023
Ecology invites you to review and comment on the periodic review for the Norseland Landfill site in Bremerton. A periodic review is conducted about every five years after a cleanup action when institutional controls are used as part of the remedy. The purpose of the periodic review is to make sure the controls remain effective, and the cleanup still protects human health and the environment.
Past occupants of the Site have included a former mobile home park, former landfill, and former military base. The U.S. Army acquired the Site in 1943 and the facility was named Camp Christie. All buildings and debris were removed or burned before the Army transferred the land back to Kitsap County in 1948. Puget Service Company leased the land and operated a landfill between 1951 and 1961. This landfill was operated under a permit from the Kitsap Public Health District. The landfill was the disposal site for the City of Bremerton and operated as a burn dump and salvage operation. Puget Service Company closed the landfill consistent with standards acceptable in 1961. In 1962 Kitsap County leased property to a developer and a mobile home park was created called the Norseland Mobile Estates. In 1963 Kitsap County gave the property to the Port of Bremerton, the current property owner.
In 1991 Ecology received reports that odors had been detected by the mobile home park residents. Between 1992 and 2000 a remedial investigation and feasibility study was conducted and a cleanup action plan developed. The mobile home park residents were moved to a new mobile home park in Port Orchard. Cleanup activities were completed under a consent decree.
The cleanup actions required the consolidation of waste within a designated area. The waste was covered by a permeable soil cap with vegetated topsoil cover. The requirements included cap maintenance, surface water control, a restrictive covenant, and compliance monitoring for groundwater and ambient air. A restrictive covenant was recorded with Kitsap County in 2000.
Groundwater and ambient air compliance monitoring was conducted from 2001 to 2006. Over this interval, Site contaminants of concern were not detected above their respective cleanup levels. The Site was removed from the Washington State Hazardous Sites List in 2011 after a public notice and comment period.
The 2022 Periodic Review concluded that the cleanup actions completed at the Site appear to still be protective of human health and the environment. Ecology will review comments received during the comment period. The periodic review will become final if no significant changes are made.
Submit your comments by:
Email
tamara.welty@ecy.wa.gov

On-Line https://tcp.ecology.commentinput.com/?id=Kx2dM
Mail
PO Box 330316
Shoreline, WA 98133-9716
Learn More How Ecology Is Protecting The Environment In Your Community

What's In My Neighborhood
shows contamination cleanup sites in Washington state. Ecology works to clean up these sites to protect the health of people and the environment. Cleanups are construction projects that remove, treat, or contain potentially harmful substances.
Report An Environmental Issue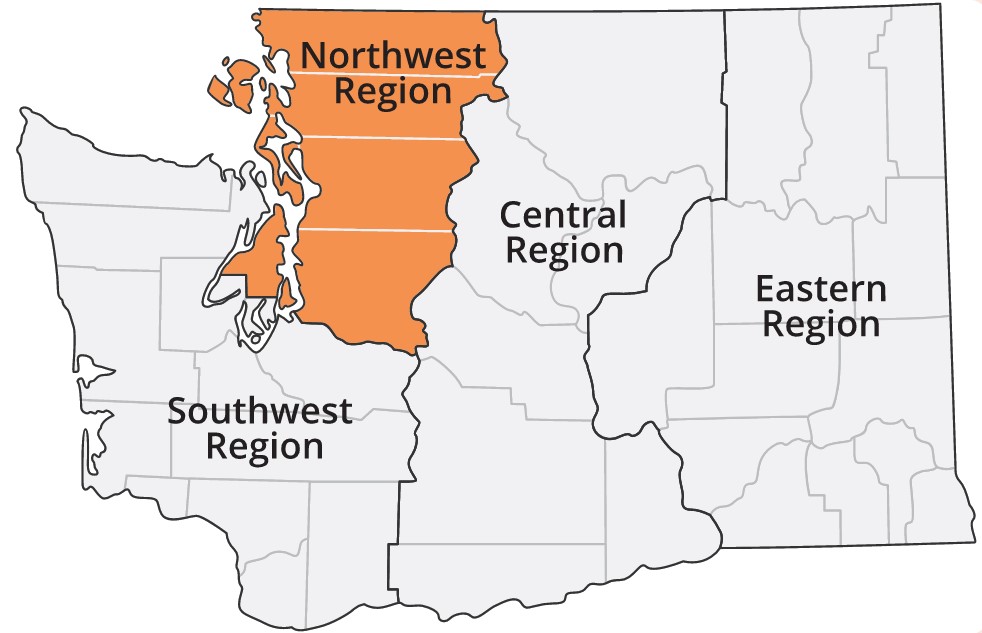 Requesting Accommodation
Ecology is committed to providing people with disabilities access to information and services. To request an ADA accommodation, contact Ecology by phone at 360-407-6831
or email at ecyadacoordinator@ecy.wa.gov. For Washington Relay Service or TTY call 711 or 877-833-6341
. Visit
Ecology's website
for more information.

​If you speak a non-English language, free language services are available.
Site use restrictions called institutional controls are in effect
Institutional controls can be fences, signs, or restrictions on how the property is used. For instance, an institutional control may prohibit installing drinking water wells or disturbing a protective cap that isolates contamination. These restrictions keep the contamination contained and keep people from being exposed to the contamination. The controls are usually listed in environmental covenants recorded with the county.
Periodic reviews are required when institutional controls are required at a site. Ecology conducts reviews to make sure the controls remain effective and the cleanup still protects human health and the environment. We conduct periodic reviews about every five years.
Environmental Covenant
County Recording #:
200008090107
County Recording Date:
8/9/2000
Restrictions/Requirements
Ongoing Maintenance of Remedy
Prohibit Soil Disturbance
Restrict All Ground Water Extraction/Well Installation
Restrict Land Use
Restricted Media
There may be more documents related to this site. To obtain documents not available electronically, you will need to make a
public records request.
Places to see print documents
Northwest Regional Office

15700 Dayton Ave N

Shoreline, 98133

Please schedule an appointment to view print documents at this location.
Port of Bremerton - Bremerton National Airport

8850 SW State HWY 3

Bremerton, 98312

This location may only have print documents available during open comment periods.
Kitsap County Regional Library - Central Branch

1301 Sylvan Way

Bremerton, 98310

This location may only have print documents available during open comment periods.
Kitsap Regional Library, Port Orchard Branch

87 Sidney Avenue

Port Orchard, 98366

This location may only have print documents available during open comment periods.
Timberland North Mason Library

23081 NE State Route 3

Belfair, 98528

This location may only have print documents available during open comment periods.
| Contaminant Type | | | | | | |
| --- | --- | --- | --- | --- | --- | --- |
| Halogenated Organics - Halogenated Organics | B | | | | | |
| Non-Halogenated Organics - Petroleum Products-Unspecified | RB | | | RB | | |
| Non-Halogenated Organics - Phenolic Compounds | RB | | | RB | | |
| Non-Halogenated Organics - Non-Halogenated Solvents | RB | | | RB | | |
| Other Contaminant - Conventional Contaminants, Organic | RB | | | | | |
S

Suspected

C

Confirmed Above Cleanup Levels

B

Below Cleanup Levels
RA

Remediated-Above

RB

Remediated-Below

R

Remediated
This contaminant list was based on our best information at the time it was entered. It may not reflect current conditions at the site.