Josephine Mill 1
Facility Site ID:
5001204
Cleanup Site ID:
1537
---
Public Comment Period May 01, 2023-May 31, 2023
Draft Periodic Review Report Available
Ecology invites you to review and comment on the draft periodic review report. We visited the site October 27, 2022, and found that the cleanup remains effective.
Review the draft report
Online: Periodic Review Report
At Ecology's Eastern Regional Office - N. 4601 Monroe St., Spokane, WA. Please call 509-329-3415 to make an appointment.
Submit comments via mail or email by May 31:
Sandra Treccani, sandra.treccani@ecy.wa.gov
N. 4601 Monroe St., Spokane, WA 99205-1265
Or use the online comment form
Next steps
Ecology will review all comments received during the comment period and revise the report if needed. If no significant changes are made, the periodic review will become final. If significant changes are made, an additional public comment period will be held. We will hold an online public meeting if 10 or more people request it.
Cleanup Complete, Monitoring Ongoing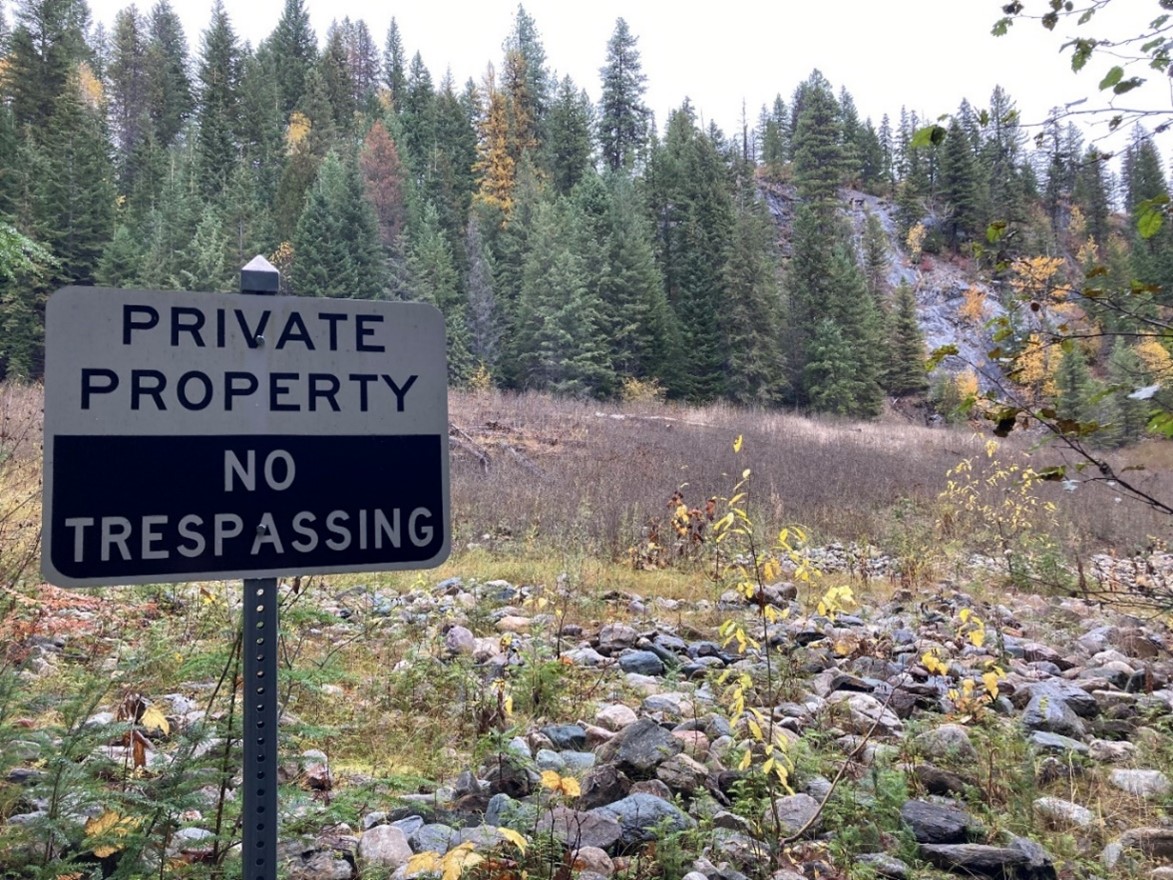 In 2010–2011, the U.S. Environmental Protection Agency (EPA) and Stimson Lumber excavated, consolidated, and capped metals-contaminated soil from former mine and mill activities.
Ecology visits the site about every five years to review the site condition and ensure the cleanup continues to protect people and the environment from exposure to remaining contaminants.
Public access is restricted by a locked gate and warning signs.
Site History
The Josephine Mine was a cadmium, lead, silver, and zinc mine that operated from around 1909 to 1955. The Josephine Mine has also been historically known as the "Clark Mine" or "Hortense Mine."
Josephine Mill 1 began operating about 1907, and was one of two mills supporting the mine. It closed around 1935 when milling operations moved to the newly constructed Josephine Mill 2.
Investigations & Cleanup

EPA and the Bureau of Land Management (BLM) started investigating the site in 2002. They tested soil using an x-ray fluorescence instrument at four potential source locations, including a tailings pile and waste rock pile. The lead levels in soil required cleanup under Washington standards. EPA and BLM gathered soil samples for laboratory analysis in 2003, and confirmed lead required cleanup.
EPA hired consultants to complete a full site investigation in 2008. They estimated 12,000 cubic yards of lead, zinc, and cadmium at levels requiring cleanup were in tailings and waste rock. EPA then entered into a legal agreement with Stimson Lumber, the site owner, to complete the cleanup, which was excavation, consolidation, and capping of contamination under a protective barrier.
In 2010, cleanup work began. Vegetation, wood, and metal debris were cleared from the work area. A repository was created to consolidate contaminated soil. A trench was installed to route groundwater around the repository. The repository was lined before adding contaminated soil.
Contaminated soil was excavated and mixed with clean, native soil and Portland cement to dry it and increase stability. Follow-up sampling confirmed all contaminated soil was moved to the repository.
A cover system designed to prevent rain and snow infiltration was placed over contaminated soil. Finally, the repository was covered with at least 18 inches of soil. A drainage ditch was installed to divert surface water around the eastern edge of the repository. The cap surface was seeded with grass, and woody debris were placed on the repository to deter recreational vehicles. Work was completed in September 2011.
An environmental covenant was filed in 2012. It prevents property uses and activities that might expose contaminated soil and notifies future property owners of remaining contamination.
Periodic Reviews
Following cleanup, Stimson performed annual inspections for the first six years, and inspections thereafter every five years. Future inspections will occur every five years or after severe weather events.
Ecology also visits the site about every five years to inspect the cap and ensure the cleanup continues to protect people and the environment from exposure to the capped contamination.
We visited the site October 27, 2022, and completed the first periodic review report in 2023. The cap and surface water drainage system were in good condition, and the covenant remains in effect. The property is vacant, and a sale is being negotiated. If the purchase goes through, the new owner will continue to maintain the property as forest habitat.
Site use restrictions called institutional controls are in effect
Institutional controls can be fences, signs, or restrictions on how the property is used. For instance, an institutional control may prohibit installing drinking water wells or disturbing a protective cap that isolates contamination. These restrictions keep the contamination contained and keep people from being exposed to the contamination. The controls are usually listed in environmental covenants recorded with the county.
Periodic reviews are required when institutional controls are required at a site. Ecology conducts reviews to make sure the controls remain effective and the cleanup still protects human health and the environment. We conduct periodic reviews about every five years.
Environmental Covenant
County Recording #:
20120313924
County Recording Date:
12/31/2002
Restrictions/Requirements
Ongoing Maintenance of Remedy
Prohibit Soil Disturbance
Restrict Access
Restrict All Ground Water Extraction/Well Installation
Restrictive Signage
Restricted Media
There may be more documents related to this site. To obtain documents not available electronically, you will need to make a
public records request.
Places to see print documents
Eastern Regional Office

N 4601 Monroe St

Spokane, 99205-1265

Please schedule an appointment to view print documents at this location.
| Contaminant Type | | | | | | |
| --- | --- | --- | --- | --- | --- | --- |
| Metals - Metals Priority Pollutants | RA | | | | | |
| Metals - Metals - Other | RA | | | | | |
S

Suspected

C

Confirmed Above Cleanup Levels

B

Below Cleanup Levels
RA

Remediated-Above

RB

Remediated-Below

R

Remediated
This contaminant list was based on our best information at the time it was entered. It may not reflect current conditions at the site.