Goodwill Corp Dearborn Campus
Facility Site ID:
6258254
Cleanup Site ID:
2997
---
Current Status
Updated January 2022
Cleanup plans for the Goodwill Corp Dearborn Campus cleanup site (site) are in development. Remedial investigation activities are underway. Assistance for this cleanup will come from
Ecology's affordable housing grant program
.
Site Information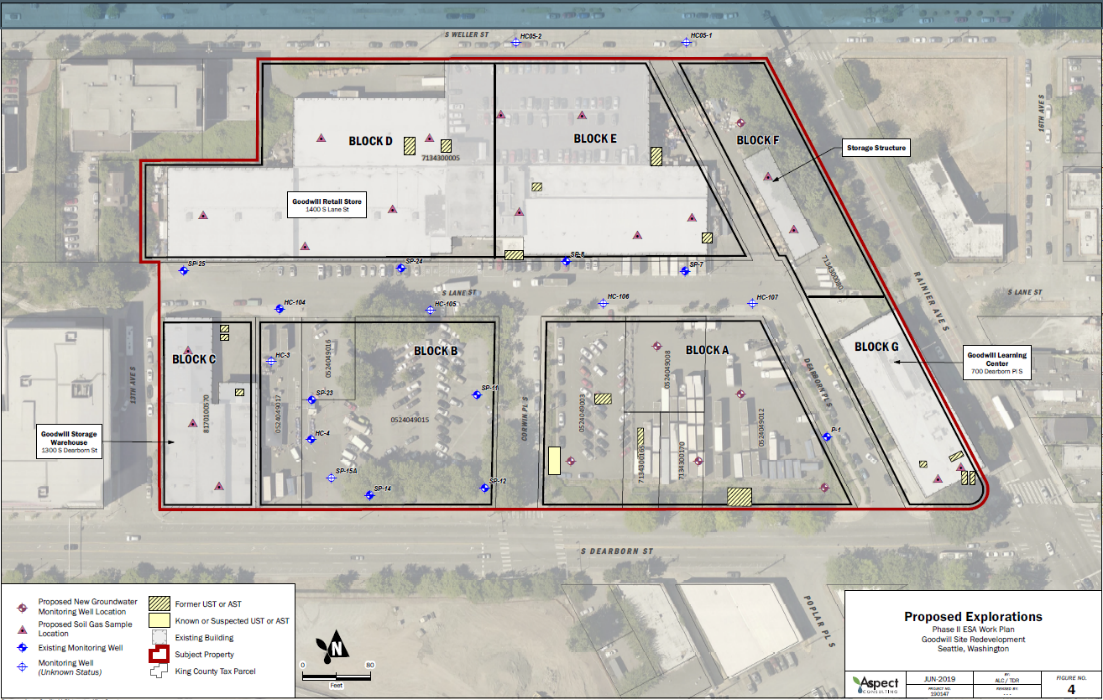 The site is located off Dearborn St in the Central District neighborhood of Seattle, WA. It consists of 11 King County tax parcels totaling approximately 10.25 acres. The Site is currently developed with paved parking or storage areas and four commercial buildings in use as a Goodwill retail store, two storage buildings in use by Goodwill, and the Goodwill Learning Center. Over the years, various businesses occupied the site, such as auto painting shop, plating works companies, refrigerator machinery and repair, service station and auto body and repair shop.

The site is divided into seven blocks, labeled A - G (see figure).

Contamination

Prior investigations have identified contaminants in soil and groundwater, likely associated with historical releases from:

• A former on-site dry cleaner (Block E)

• A hazardous materials storage area (Block F)

• Former petroleum underground storage tanks (USTs; Blocks A, D, and C)

• A former metal plating operation (Block C)

• Use/storage of Stoddard solvent (Blocks A and E)

• Placement of contaminated urban fill material across most of the site



General Cleanup Process
The Model Toxics Control Act (MTCA;
Chapter 70.105D RCW
is Washington's environmental cleanup law). It provides requirements for contaminated site cleanup and sets standards that protect human health and the environment. Ecology enacts the MTCA and oversees cleanups. The
MTCA site cleanup process
is completed in steps (see graphic below) over a variable timeline.
There may be more documents related to this site. To obtain documents not available electronically, you will need to make a
public records request.
Places to see print documents
Northwest Regional Office

15700 Dayton Ave N

Shoreline, 98133

Please schedule an appointment to view print documents at this location.
| Contaminant Type | | | | | | |
| --- | --- | --- | --- | --- | --- | --- |
| Halogenated Organics - Halogenated Organics | C | C | | S | | |
| Metals - Metals Priority Pollutants | S | S | | S | | |
| Non-Halogenated Organics - Petroleum Products-Unspecified | C | C | | S | | |
S

Suspected

C

Confirmed Above Cleanup Levels

B

Below Cleanup Levels
RA

Remediated-Above

RB

Remediated-Below

R

Remediated
This contaminant list was based on our best information at the time it was entered. It may not reflect current conditions at the site.