Washington Water Power Central Steam Plant
Facility Site ID:
726
Cleanup Site ID:
682
---
Public Comment Period May 15, 2023-June 14, 2023
Draft Periodic Review Report Available
Ecology invites you to review and comment on the draft periodic review report. We visited the site February 8, 2023, and found that the cleanup remains effective.
Review the draft report
Online: Periodic Review Report
At Ecology's Eastern Regional Office - N. 4601 Monroe St., Spokane, WA. Please call 509-329-3415 to make an appointment.
Submit comments via mail or email by June 14:
Ted Uecker, ted.uecker@ecy.wa.gov
N. 4601 Monroe St., Spokane, WA 99205-1265
Or use the online comment form
Next steps
Ecology will review all comments received during the comment period and revise the report if needed. If no significant changes are made, the periodic review will become final. If significant changes are made, an additional public comment period will be held. We will hold an online public meeting if 10 or more people request it.
Cleanup Complete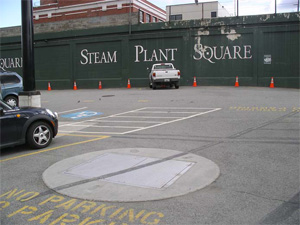 The site was built in 1915 to burn coal and produce steam and electric power. In the mid-1960s, the boilers were converted to use petroleum (Bunker C). Seven underground storage tanks were constructed to store fuel.
Petroleum for the boilers spilled in 1982. Investigations found petroleum in soil and shallow groundwater. The contaminated groundwater is not a source of drinking water and is not connected to the Spokane-Valley Rathdrum-Prairie Aquifer.
Cleanup included excavating contaminated soil near the ground surface and replacing it with clean soil, capping the area with asphalt, and removing the underground storage tanks. A restrictive covenant is on the property, prohibiting the use of groundwater and any activities that would expose remaining contaminated soil.
Quarterly groundwater monitoring began in 1997. Gasoline- and diesel-range petroleum concentrations have met state standards since February 2005. However, petroleum continues to be removed from extraction wells. Bunker C continues to be detected at low concentrations in some groundwater monitoring wells. The site is now retail stores, restaurants, hotels, and commercial parking lots.
Periodic reviews
During the periodic reviews in 2023 and 2014, Ecology decided the cleanup continues to protect people and the environment. No repair, maintenance, or further cleanup were required.
During the periodic review in 2008, Ecology found a monitoring well on the eastern side of the intersection of South Lincoln Street and West First Avenue was missing the monument lid and well casing cap. The well was properly closed in 2010 to prevent potential groundwater contamination.
Site use restrictions called institutional controls are in effect
Institutional controls can be fences, signs, or restrictions on how the property is used. For instance, an institutional control may prohibit installing drinking water wells or disturbing a protective cap that isolates contamination. These restrictions keep the contamination contained and keep people from being exposed to the contamination. The controls are usually listed in environmental covenants recorded with the county.
Periodic reviews are required when institutional controls are required at a site. Ecology conducts reviews to make sure the controls remain effective and the cleanup still protects human health and the environment. We conduct periodic reviews about every five years.
Environmental Covenant
County Recording #:
4174187
County Recording Date:
12/30/1997
Restrictions/Requirements
Restrict All Ground Water Extraction/Well Installation
Restrict Land Use
Restricted Media
There may be more documents related to this site. To obtain documents not available electronically, you will need to make a
public records request.
Places to see print documents
Eastern Regional Office

N 4601 Monroe St

Spokane, 99205-1265

Please schedule an appointment to view print documents at this location.
| Contaminant Type | | | | | | |
| --- | --- | --- | --- | --- | --- | --- |
| Non-Halogenated Organics - Petroleum Products-Unspecified | C | C | | | | |
S

Suspected

C

Confirmed Above Cleanup Levels

B

Below Cleanup Levels
RA

Remediated-Above

RB

Remediated-Below

R

Remediated
This contaminant list was based on our best information at the time it was entered. It may not reflect current conditions at the site.