Gold Knob Prospects
Facility Site ID:
22496
Cleanup Site ID:
11610
---
Public Comment Period February 18, 2021-March 20, 2021
Ecology is providing an opportunity for the public to comment on the Phase 2 Interim Remedial Action Preliminary Design Report for the Gold Knob Prospects a.k.a. Saddle Rock Park, located at 1200 Circle Street in Wenatchee. An Interim Action is a partial or short-term cleanup of contamination.
Ecology is asking for your comments on the Interim Remedial Action Report. You are invited to:
• Review the
"Phase 2 Interim Remedial Action Preliminary Design Report – Saddle Rock Park, Wenatchee, Washington"
dated January 4, 2021
• Send your comments to Ecology for consideration. Comments will be accepted February 18, 2021 through March 19, 2021.
The Phase 2 Interim Remedial Action Preliminary Design Report is available for review above and at the "View Electronic Documents" link in the right navigation pane. Please submit any comments and technical questions to Frank Winslow, Site Manager, at Ecology's Central Regional Office at 1250 W. Alder Street, Union Gap, WA 98903-0009, by email at
Frank.Winslow@ecy.wa.gov
. You may also submit comments online:
•
Submit Comments Online
Due to circumstances beyond control and public health and safety concerns, Ecology cannot offer in-person document review. Documents are currently available electronically only.
You can find site documents by using the "View Electronic Documents" link in the bar on the right.
To request reasonable accommodations or materials in alternative formats, visit
https://ecology.wa.gov/accessibility
, email at
ecyadacoordinator@ecy.wa.gov
, call Ecology at
(360) 407-6831
, Relay Service 711, or TTY
877-833-6341
.
Site Description

Gold Knob Prospects a.k.a. Saddle Rock Regional Park is a 325-acre community landmark in the Wenatchee Valley, popular with hikers, bicyclists and horseback riders for decades. For over 100 years, the property was owned by the Washington State Department of Natural Resources (DNR) and in 2011, the City of Wenatchee, along with assistance from the Chelan-Douglas Land Trust, purchased the property. It is now a public park and recreation area. Dating back to 1891 until 1989, several areas of Saddle Rock were prospected for gold. Prospecting exploration resulted in the creation of waste rock piles.

In May 2011, Ecology collected soil samples and estimated the size of the waste rock piles. Results from Ecology's testing showed high concentrations of certain metals, including arsenic, mercury, and selenium above state cleanup levels.

Cleanup Activities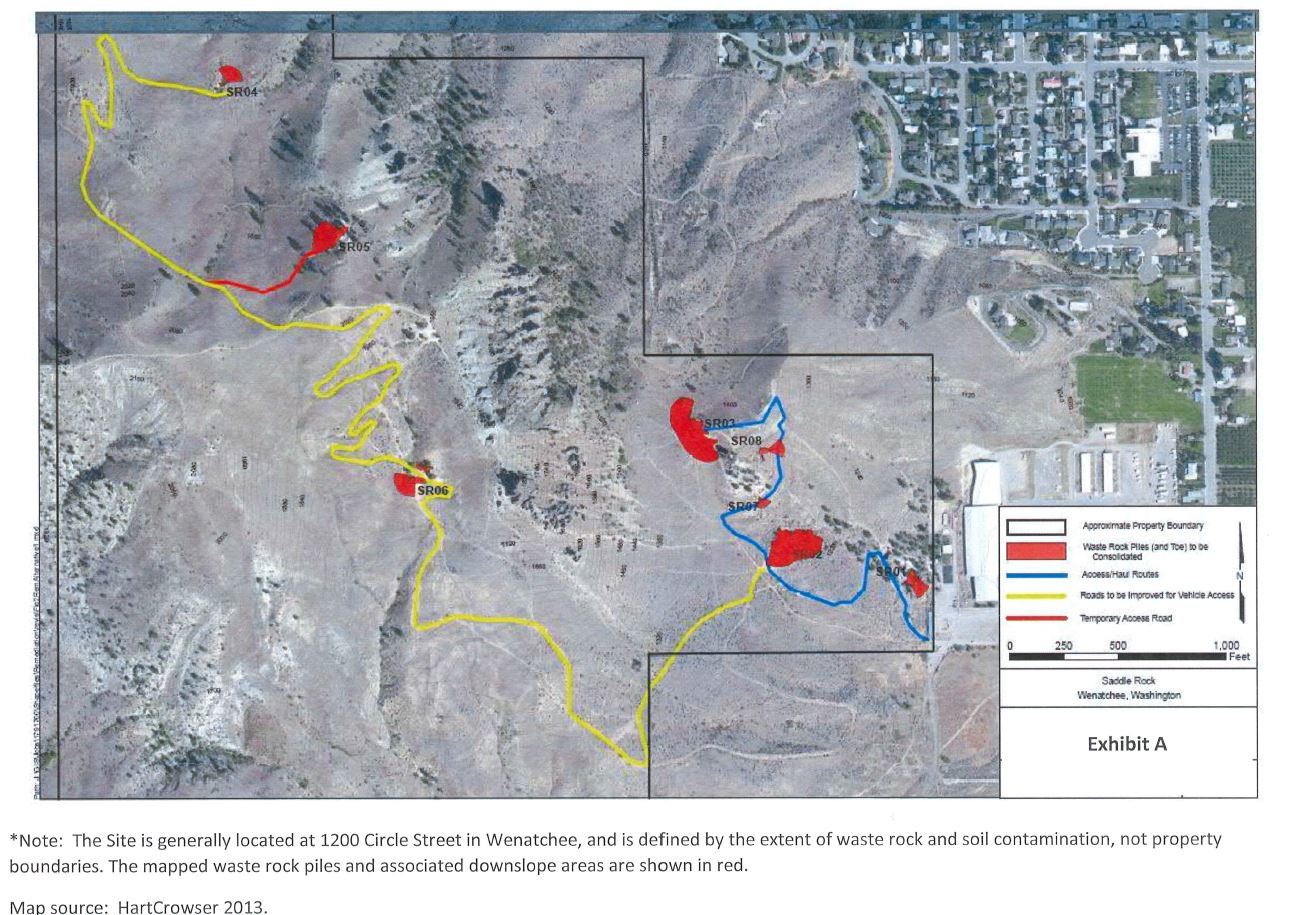 In late 2018, Ecology entered into an Agreed Order with the City of Wenatchee to remove the waste rock piles and dispose of them at the Wenatchee Regional Landfill. An Agreed Order is a legal agreement between Ecology and the City of Wenatchee outlining the expectations, process, and schedule for site cleanup.

In 2019, Phase 1 cleanup of waste rock piles in the lower area was completed.

Phase 2 cleanup of waste rock piles in the upper area is anticipated to be completed in 2021.

State Environmental Policy Act
1
There may be more documents related to this site. To obtain documents not available electronically, you will need to make a
public records request.
| Contaminant Type | | | | | | |
| --- | --- | --- | --- | --- | --- | --- |
| Metals - Arsenic | C | | | | | |
S

Suspected

C

Confirmed Above Cleanup Levels

B

Below Cleanup Levels
RA

Remediated-Above

RB

Remediated-Below

R

Remediated
This contaminant list was based on our best information at the time it was entered. It may not reflect current conditions at the site.