Gold Knob Prospects
Facility Site ID:
22496
Cleanup Site ID:
11610
---
Site Description

Gold Knob Prospects, also known as Saddle Rock Regional Park, is a 325-acre community landmark in the Wenatchee Valley, popular with hikers, bicyclists and horseback riders for decades. For over 100 years, the property was owned by the Washington State Department of Natural Resources (DNR) and in 2011, the City of Wenatchee, along with assistance from the Chelan-Douglas Land Trust, purchased the property. It is now a public park and recreation area. Dating back to 1891 until 1989, several areas of Saddle Rock were prospected for gold. Prospecting exploration resulted in the creation of waste rock piles.

In May 2011, Ecology collected soil samples and estimated the size of the waste rock piles. Results from Ecology's testing showed high concentrations of certain metals, including arsenic, mercury, and selenium above state cleanup levels.
Cleanup Activities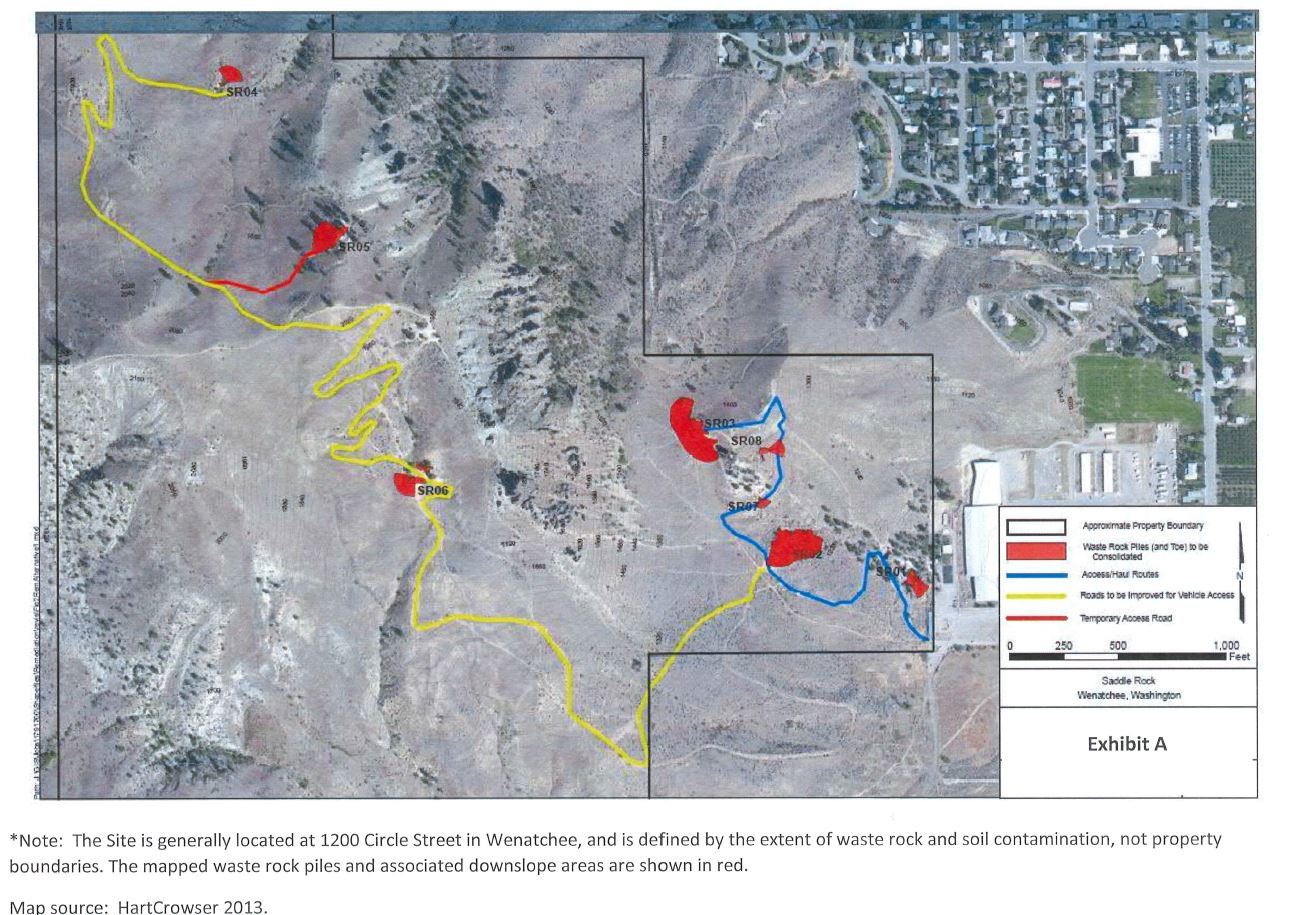 In late 2018, Ecology entered into an Agreed Order with the City of Wenatchee to remove the waste rock piles and dispose of them at the Wenatchee Regional Landfill. An Agreed Order is a legal agreement between Ecology and the City of Wenatchee outlining the expectations, process, and schedule for site cleanup.

In 2019, Phase 1 cleanup of waste rock piles in the lower area was completed. Phase 2 cleanup of waste rock piles in the upper area was completed in 2022.
State Environmental Policy Act
1
There may be more documents related to this site. To obtain documents not available electronically, you will need to make a
public records request.
| Contaminant Type | | | | | | |
| --- | --- | --- | --- | --- | --- | --- |
| Metals - Metals - Other | C | | | | | |
| Metals - Arsenic | C | | | | | |
| Metals - Mercury | C | | | | | |
S

Suspected

C

Confirmed Above Cleanup Levels

B

Below Cleanup Levels
RA

Remediated-Above

RB

Remediated-Below

R

Remediated
This contaminant list was based on our best information at the time it was entered. It may not reflect current conditions at the site.