Shell Oil Tank Farm
Facility Site ID:
4781157
Cleanup Site ID:
4846
---
A Puget Sound Initiative site - Reaching the goal of a healthy, sustainable Puget Sound.
Site Description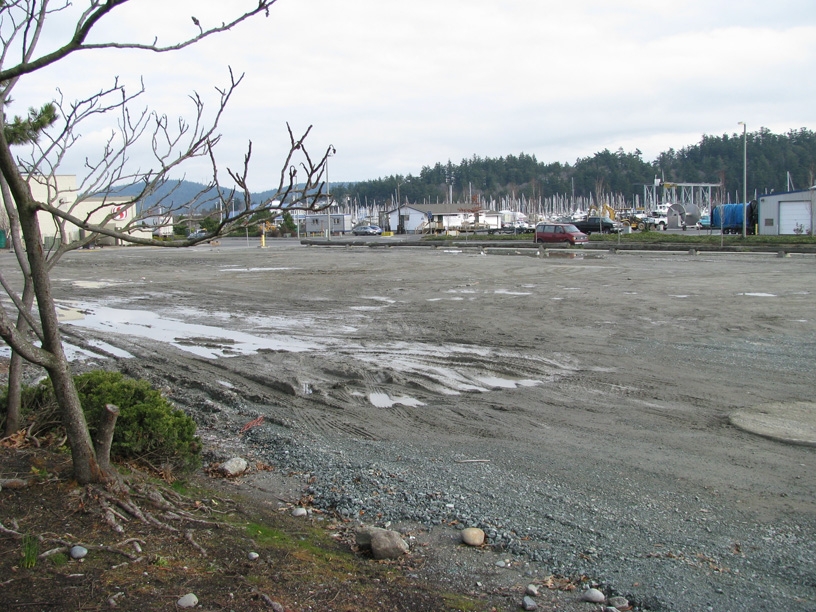 The Shell Oil Tank Farm Site, at 14th Street and Q Avenue in Anacortes was originally a portion of the Fidalgo Bay tide flats, which were filled to current grade between 1925 and 1929. The property was acquired by the Port in 1929 and leased to the Shell Oil Company (Shell) in 1930 for use as a bulk fuel storage and distribution facility that primarily handled gasoline and diesel-range fuels. Site facilities included three 25,000 gallon aboveground storage tanks (ASTs) and a 2,000 gallon underground storage tank (UST). In the 1950s, two additional 12,500 gallon ASTs were installed at the Site and the 2,000 gallon UST was reportedly replaced with a 4,000 gallon UST.

The Site was operated by Shell and various bulk product distributors until 1987, at which time operations ceased and the facility was reportedly decommissioned, including removal of all tanks, associated piping, and structures. Additionally at this time, an unknown volume of soil was excavated from one or more of the areas in which surface staining was observed. Currently, the former Shell Oil Tank Farm Site is used by the Port as a vehicle and boat trailer parking lot supporting the trailer boat launch facility located to the east of Cap Sante Boat Haven.
Site Status
The Port of Anacortes completed cleanup work in 2014, after taking 4,300 cubic yards of contaminated soil off-site to a permitted facility. Some soil that was contaminated with diesel, oil, cadmium, gasoline, and benzene could not be removed because utility lines prevented access. In 2017, an environmental covenant was recorded for the site, requiring specific activities and tools to protect people and the environment from exposure to that remaining contamination. Once the covenant was in place, Ecology declared the cleanup work complete.

The environmental covenant lists these key requirements:

· Contaminated soil must be contained by a two to three foot cap and a protective barrier that aids in biological breakdown of remaining organic contaminants.

· Data must be collected from groundwater wells regularly to monitor the performance of the cleanup.

According to the covenant, any accidental damage to these systems must be reported to Ecology, and planned work that could compromise their integrity must be approved by Ecology.

Because of the remaining contamination and requirements of the environmental covenant, periodic reviews are required for this site to be sure people and the environment are not
exposed. We will review the conditions of the environmental covenant and the physical condition of the site every five years to ensure the cleanup work remains effective.
Site use restrictions called institutional controls are in effect
Institutional controls can be fences, signs, or restrictions on how the property is used. For instance, an institutional control may prohibit installing drinking water wells or disturbing a protective cap that isolates contamination. These restrictions keep the contamination contained and keep people from being exposed to the contamination. The controls are usually listed in environmental covenants recorded with the county.
Periodic reviews are required when institutional controls are required at a site. Ecology conducts reviews to make sure the controls remain effective and the cleanup still protects human health and the environment. We conduct periodic reviews about every five years.
Environmental Covenant
County Recording #:
201705160070
County Recording Date:
5/16/2017
Restrictions/Requirements
Maintain/Protect Monitoring System
Ongoing Maintenance of Remedy
Prohibit Soil Disturbance
Restrict Access
Restricted Media
There may be more documents related to this site. To obtain documents not available electronically, you will need to make a
public records request.
Places to see print documents
Headquarters

300 Desmond Dr SE

Lacey, 98503

Please schedule an appointment to view print documents at this location.
Anacortes Public Library

1220 10th Street

Anacortes, 98221

This location may only have print documents available during open comment periods.
| Contaminant Type | | | | | | |
| --- | --- | --- | --- | --- | --- | --- |
| Metals - Metals Priority Pollutants | C | C | | | | |
| Halogenated Organics - Polychlorinated biPhenyls (PCB) | B | | | | | |
| Non-Halogenated Organics - Petroleum Products-Unspecified | C | C | | | | |
| Non-Halogenated Organics - Non-Halogenated Solvents | C | B | | | | |
| Non-Halogenated Organics - Polycyclic Aromatic Hydrocarbons | S | | | | | |
S

Suspected

C

Confirmed Above Cleanup Levels

B

Below Cleanup Levels
RA

Remediated-Above

RB

Remediated-Below

R

Remediated
This contaminant list was based on our best information at the time it was entered. It may not reflect current conditions at the site.