Blakely Harbor Park
Facility Site ID:
60939
Cleanup Site ID:
14770
---
A Puget Sound Initiative site - Reaching the goal of a healthy, sustainable Puget Sound.
Background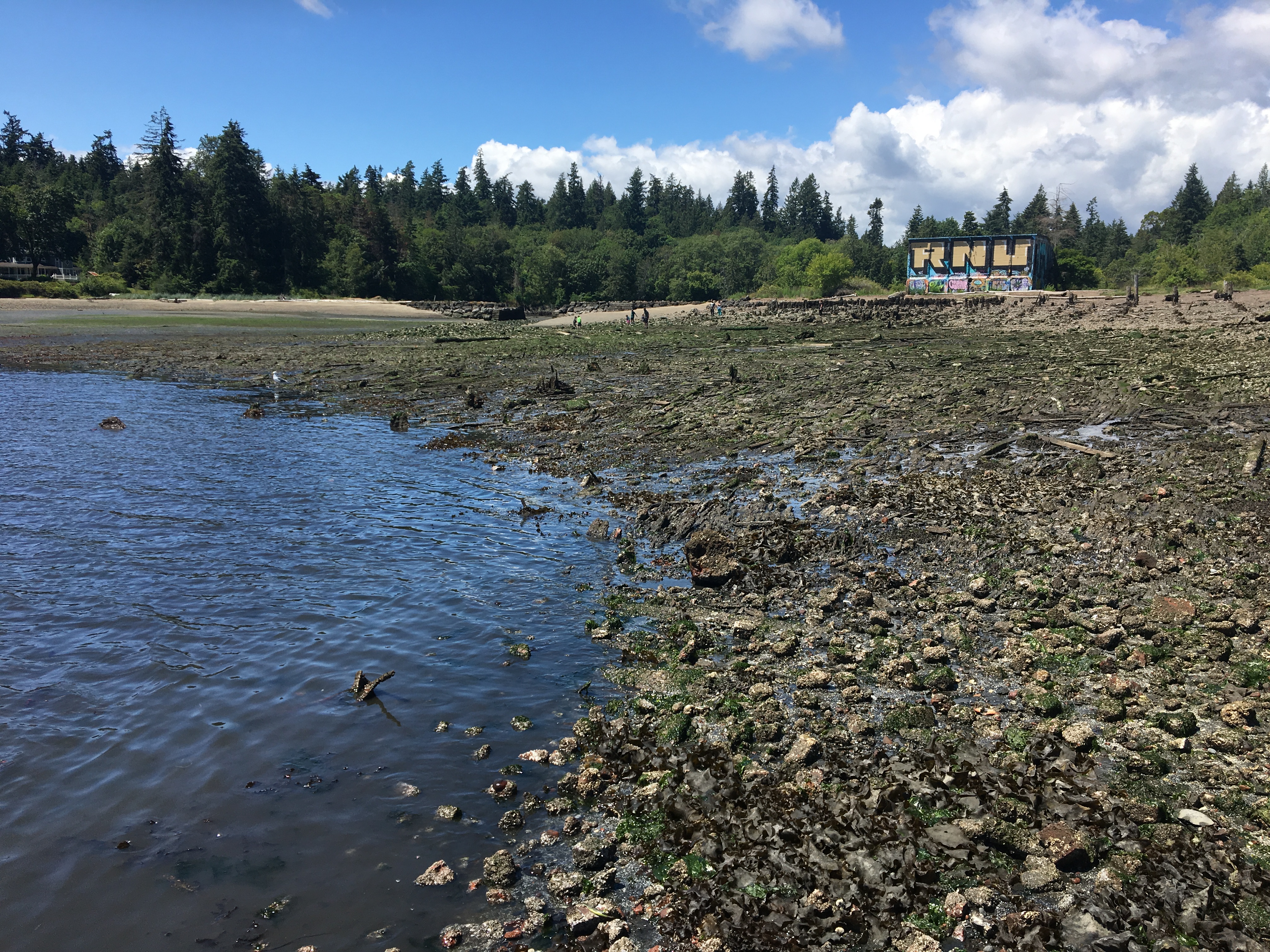 Blakely Harbor Park, generally located at Blakely Avenue & 3-T Road, Bainbridge Island, WA 98110, is one of several sites that have been prioritized for cleanup under the State's Puget Sound Initiative. Between 1864 and 1922, a sawmill operated on the site. At its peak, the mill produced 100 million board feet of lumber per year. Today, Bainbridge Island Metro Park and Recreation District maintains 40 acres within the former mill property for recreational uses. Currently, the remainder of the former mill property is privately owned.

Wood waste is present in marine sediment as a result of historic site uses. Recent soil and sediment sampling found contaminants associated with historic sawmill operations including metals, phenols, polycyclic aromatic hydrocarbons, and dioxins/furans above state standards. Additional testing will further assess the extent of contamination in the uplands and sediments. Contaminant concentrations do not currently pose an imminent threat to human health.

Ecology plans to work with Port Blakely Tree Farms (Port Blakely) to investigate soil, groundwater and sediment contamination at the site, and to develop a cleanup action plan.
Status
Following a public comment period in early 2020, Ecology and Port Blakely have finalized a formal legal agreement called an Agreed Order. The Agreed Order requires Port Blakely to define the extent and nature of contamination in a Remedial Investigation and Feasibility Study report and to draft a Cleanup Action Plan for upland and in-water contamination.

You can watch a recording of the online open house held on March 17, 2020 to discuss the project and the early 2020 comment period, and review the comments we received and our responses in the responsiveness summary.

Investigation work to date includes:
Early 1990s site sampling - identified potential contamination in the former mill area.
2008 - 2009 site sampling - identified potential sediment contamination at the site.
2019 sediment data report - further characterized sediment contamination prompting further investigation of soil and sediment at the site.
2020 sea floor characterization sampling - These surveys looked at sea floor elevation to build high-resolution bathymetric maps. They also collected images of the sediment to understand its basic characteristics and how much wood waste is present near the surface.
Technical Documents
Blakely Harbor Park Sediment Investigation Final Data Report exceeds the size restrictions. Please contact the site manager John Evered for the complete report.
There may be more documents related to this site. To obtain documents not available electronically, you will need to make a
public records request.
Places to see print documents
Headquarters

300 Desmond Dr SE

Lacey, 98503

Please schedule an appointment to view print documents at this location.
| Contaminant Type | | | | | | |
| --- | --- | --- | --- | --- | --- | --- |
| Metals - Metals - Other | S | S | | | C | |
| Halogenated Organics - Dioxins/Furans | S | S | | | S | |
| Other Contaminant - Conventional Contaminants, Organic | | | | | S | |
| Other Contaminant - Conventional Contaminants, Inorganic | S | S | | | S | |
| Other Contaminant - Other Deleterious Substances | | | | | C | |
| Metals - Lead | S | S | | | C | |
S

Suspected

C

Confirmed Above Cleanup Levels

B

Below Cleanup Levels
RA

Remediated-Above

RB

Remediated-Below

R

Remediated
This contaminant list was based on our best information at the time it was entered. It may not reflect current conditions at the site.