Spokane River Upriver Dam and Donkey Island
Facility Site ID:
65178472
Cleanup Site ID:
4213
---
Site Background
The Spokane River drains more than 4,900 square miles in Washington and Idaho. Industries and municipal wastewater treatment plants in the watershed upstream of the Upriver Dam and Donkey Island cleanup site have discharged polychlorinated biphenyls (PCBs) into the river. Two PCB deposits in river-bottom sediments were investigated and cleaned up from 2006 to 2007 under a consent decree Ecology entered into with Avista Development, Inc. (Avista) and Kaiser Aluminum & Chemical Corporation, the parties responsible for cleanup.

Cleanup was necessary because:
PCBs build up in the fatty tissues of humans, fish and animals and may cause harmful health effects.
Removing or containing PCBs reduces contamination in the environment and provides a safer environment for children, adults, and wildlife using these areas.
The Spokane River Upriver Dam and Donkey Island site is divided into two cleanup projects. These areas are owned by the City of Spokane, the Washington Department of Natural Resources, and the Washington Department of Parks & Recreation. They are open to the public for recreational activities.
Contaminated Sediments Behind Upriver Dam Capped 2006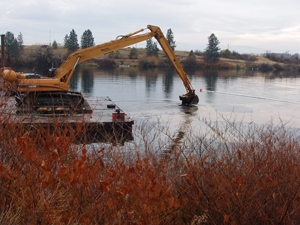 Upriver Dam is located along Upriver Drive east of Greene Street in the City of Spokane. The project begins directly behind the dam and stretches east for nearly one-half mile, covering approximately 3.6 acres.
Known PCB sources to the dam area of the river include:
Spokane Industrial Park, formerly owned and operated by Pentzer Development Corporation of which Avista is a successor
Kaiser Aluminum & Chemical Corporation (Trentwood Works)
Liberty Lake sewage treatment plant
Under Ecology's direction, contractors for Avista placed a three-layered cover called an engineered cap over the contaminated sediments on the river bottom. The cap is made of coal, sand, and gravel and is intended to isolate PCBs and keep contaminants from moving.
Donkey Island Contaminated Soil Excavated And Backfilled 2007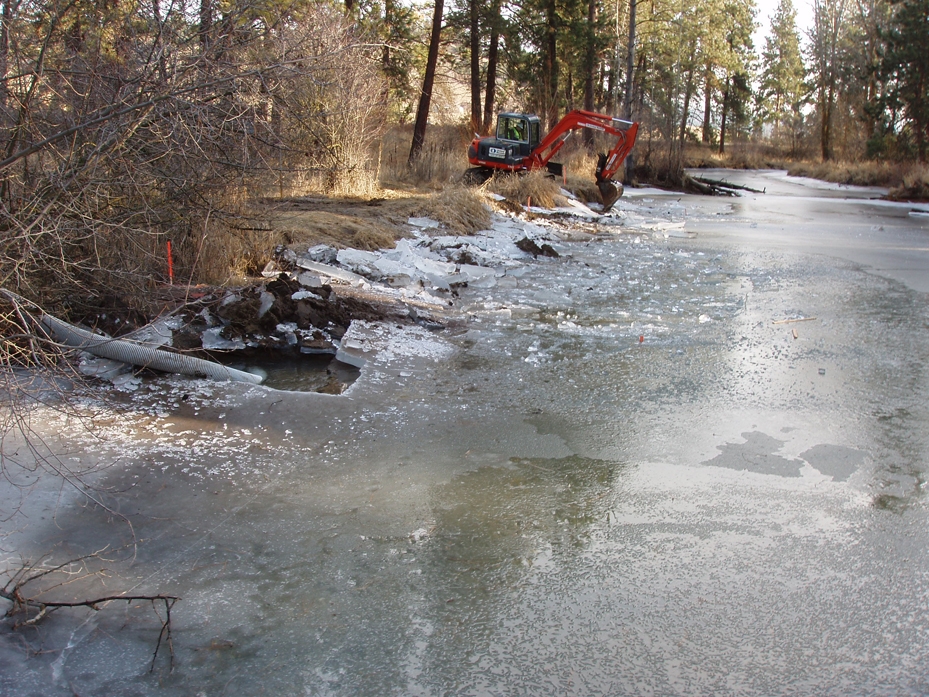 The Donkey Island project is east of Upriver Dam in wetlands and backwater channels on the north bank of the river. The project is 0.25 acres in an unincorporated area.

Ecology provided oversight as contractors removed PCB-contaminated soil and restored the area with clean sand. Areas disturbed during PCB removal were replanted in spring 2007.
Periodic Reviews
Ecology visited the site August 13, 2021, and used data from sediment samples taken in 2008, 2010, and 2020 to determine the remedies are still effective for the second periodic review. We are recommending further sampling and monitoring of the Upriver Dam cap because 2020 sampling results indicated PCBs are beginning to move upwards through the cap, but have not broken through. In addition, surficial sediments deposited on the cap contained elevated PCBs and heavy metals, meaning upstream contaminants are continuing to deposit at the site. The additional samples would show how much has resurfaced. Monitoring is planned to occur in 2025 to inform the next periodic review. The Periodic Review Report was available for public comment September 27 through October 26, 2021. We responded to comments from four organizations and made minor revisions to the report.
Ecology visited the site October 23, 2013, for the first periodic review. It is still owned by the State and is open to public recreation. Ecology used data from sediment samples taken in 2008 and 2010 to determine the remedies are still effective. The Periodic Review Report was available for public comment December 23, 2015, through January 27, 2016, and one question was received. Ecology answered the question in a response to comments document.

Periodic reviews are required when contamination is capped at a site. Ecology conducts reviews to make sure the cleanup still protects human health and the environment. We conduct periodic reviews about every five years.
State Environmental Policy Act
1
There may be more documents related to this site. To obtain documents not available electronically, you will need to make a
public records request.
Places to see print documents
Eastern Regional Office

N 4601 Monroe St

Spokane, 99205-1265

Please schedule an appointment to view print documents at this location.
| Contaminant Type | | | | | | |
| --- | --- | --- | --- | --- | --- | --- |
| Metals - Metals Priority Pollutants | | | | | C | |
| Halogenated Organics - Polychlorinated biPhenyls (PCB) | | | S | | C | |
| Non-Halogenated Organics - Phenolic Compounds | | | | | S | |
| Non-Halogenated Organics - Polycyclic Aromatic Hydrocarbons | | | | | S | |
| Metals - Arsenic | | | | | C | |
S

Suspected

C

Confirmed Above Cleanup Levels

B

Below Cleanup Levels
RA

Remediated-Above

RB

Remediated-Below

R

Remediated
This contaminant list was based on our best information at the time it was entered. It may not reflect current conditions at the site.