Bothell Service Center Simon & Son
Facility Site ID:
33215922
Cleanup Site ID:
427
---
Site Status - July 2021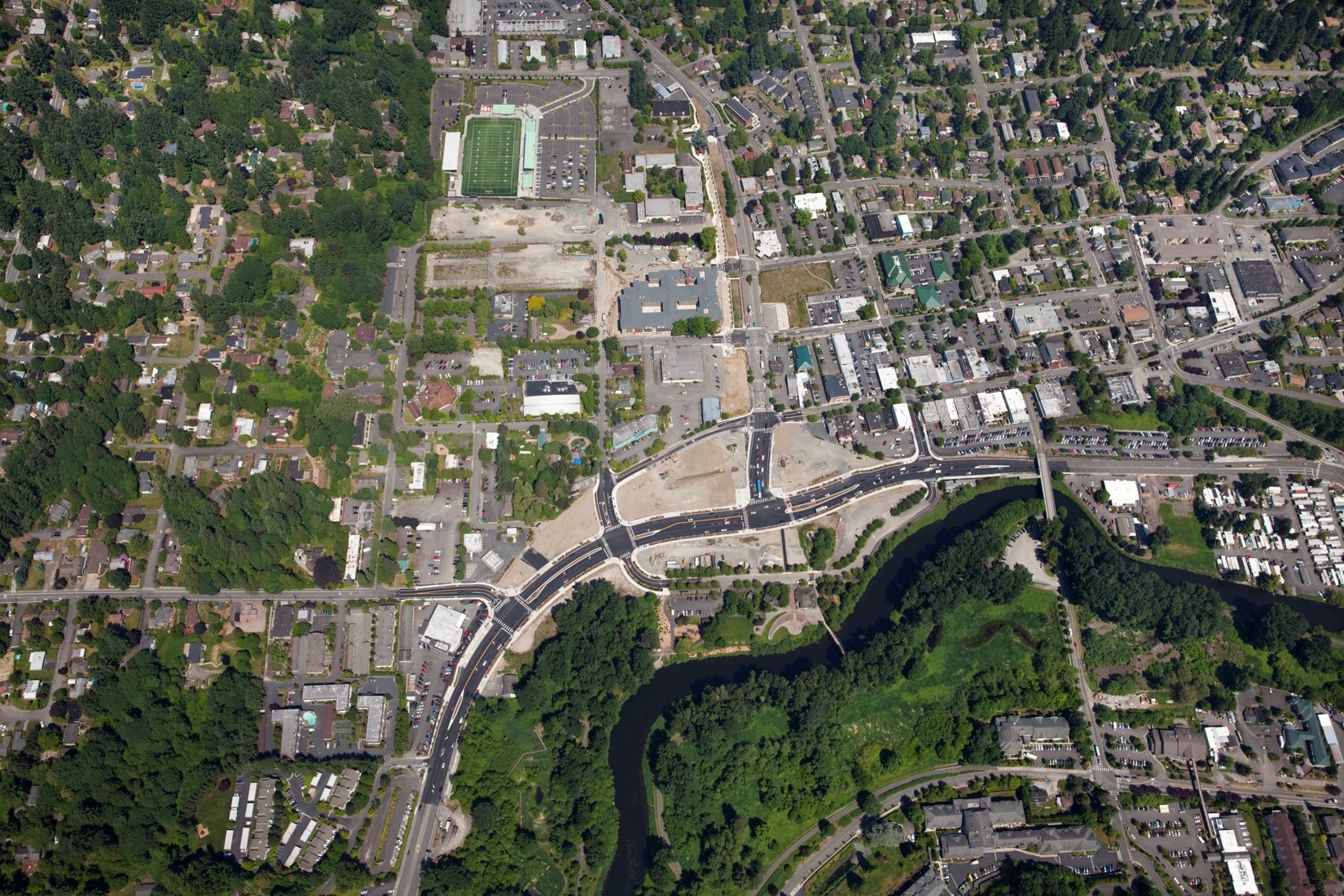 The Washington State Department of Ecology (Ecology) and the City of Bothell (City) continue to clean up groundwater contaminated with dry cleaning solvents. Under the Cleanup Action Plan (CAP), the preferred remedial alternative was Electrical Resistive Heating/Bioremediation with Groundwater Recirculation, augmented by targeted soil excavation and soil vapor extraction. The following has been accomplished:

• Electrical Resistive Heating was carried out at the source of contamination from May 29, 2018 to November 20, 2018. An estimated 1,466.5 pounds of tetrachloroethylene (PCE) was removed from the ground.

• Soil vapor extraction (SVE), a process that removes contaminant (in the form of gasses) from soil by applying a vacuum, was carried out from March 15, 2019 to August 30, 2019.

• Soil excavations at the source area vadose zone (soil zone above the water table) was carried out from June 18, 2019 to August 28, 2019. Clean fill along with Carbstrate (a harmless substance that enhances microbiological cleanup of contaminants).

• Bioremediation with Groundwater Recirculation which extracts groundwater, removes contamination using an above ground system, then re-injects it with Carbstrate back into the ground to clean up groundwater using microbiological processes. This bioremediation and groundwater recirculation system began in October and is still operating.

• Groundwater monitoring to keep tabs on the cleanup of the groundwater contamination.

A significant amount of soil and groundwater cleanup has been accomplished. At present, only the bioremediation system is operating on the remaining solvent plume, which has decreased in size and concentrations.

Lot D redevelopment
Portions of the BSCSS and the Bothell Former Hertz sites has been reparceled in the Lot D property, requiring modifications to the monitoring well network and the recirculating bioremediation system. Safeguards are in place to protect residents and workers in the redeveloped property, such institutional controls on land use, vapor barriers and vapor mitigation such as venting to prevent vapor intrusion risks to indoor air quality, and indoor air monitoring. However, since a large mass of contamination has already been removed, any human health risks from remaining contamination in groundwater are considered to be minimal or nonexistent.

Institutional controls on land use are under a May 13, 2020 environmental covenant.



Site use restrictions called institutional controls are in effect
Institutional controls can be fences, signs, or restrictions on how the property is used. For instance, an institutional control may prohibit installing drinking water wells or disturbing a protective cap that isolates contamination. These restrictions keep the contamination contained and keep people from being exposed to the contamination. The controls are usually listed in environmental covenants recorded with the county.
Periodic reviews are required when institutional controls are required at a site. Ecology conducts reviews to make sure the controls remain effective and the cleanup still protects human health and the environment. We conduct periodic reviews about every five years.
Environmental Covenant
County Recording #:
20200513000357
County Recording Date:
5/13/2020
Restrictions/Requirements
Control Vapor/Gas
Maintain/Protect Monitoring System
Ongoing Maintenance of Remedy
Prohibit New Building Construction
Prohibit Removal or Alteration of Existing Buildings
Prohibit Soil Disturbance
Restrict All Ground Water Extraction/Well Installation
Restricted Media
Other Upland Instrument
Restrictions/Requirements
Maintain/Protect Monitoring System
Ongoing Maintenance of Remedy
Prohibit Soil Disturbance
Restrict All Ground Water Extraction/Well Installation
Restrict Domestic Ground Water Extraction/Well Installation
Restricted Media
State Environmental Policy Act
3
Voluntary Cleanup Program
2
There may be more documents related to this site. To obtain documents not available electronically, you will need to make a
public records request.
Places to see print documents
Northwest Regional Office

15700 Dayton Ave N

Shoreline, 98133

Please schedule an appointment to view print documents at this location.
King County Bothell Regional Library

18215 98th Ave NE

Bothell, 98011

This location may only have print documents available during open comment periods.
| Contaminant Type | | | | | | |
| --- | --- | --- | --- | --- | --- | --- |
| Halogenated Organics - Halogenated Organics | C | C | S | | | |
S

Suspected

C

Confirmed Above Cleanup Levels

B

Below Cleanup Levels
RA

Remediated-Above

RB

Remediated-Below

R

Remediated
This contaminant list was based on our best information at the time it was entered. It may not reflect current conditions at the site.