Maury Island Open Space
Facility Site ID:
2901216
Cleanup Site ID:
1532
---
Site Status - November 2019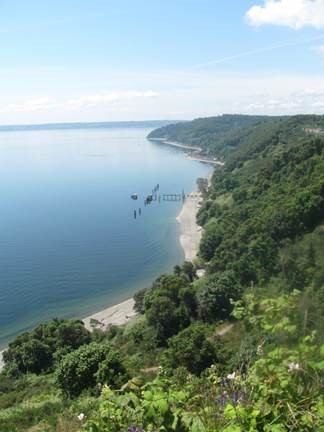 In April 2018 Ecology hosted a public comment period and meeting for a cleanup plan and associated documents related to the Maury Island Open Space Site. The plan specifies environmental standards, cleanup methods, and scheduling as part of an existing agreement between Ecology and King County. The following documents were available for public comment:
Remedial Investigation: details an investigation of the nature and extent of contamination at the Site.
Feasibility Study: identifies 5 alternatives, and a preferred alternative, for addressing contamination at the Site.
Draft Cleanup Action Plan: describes how the preferred alternative will be implemented at the Site.
State Environmental Policy Act-Determination of Non-Significance: a determination that the cleanup work is not likely to harm the environment.
Ecology received 34 comments on these documents, and responded to all of them in a Response To Comments document. No comments warranted any changes to the draft documents, so Ecology made them final and authorized King County to proceed with the Cleanup Action Plan, which it has been doing since that time.

Stay tuned to this page for updates, and find additional information about the Maury Island Open Space park on King County's webpage.
Site Description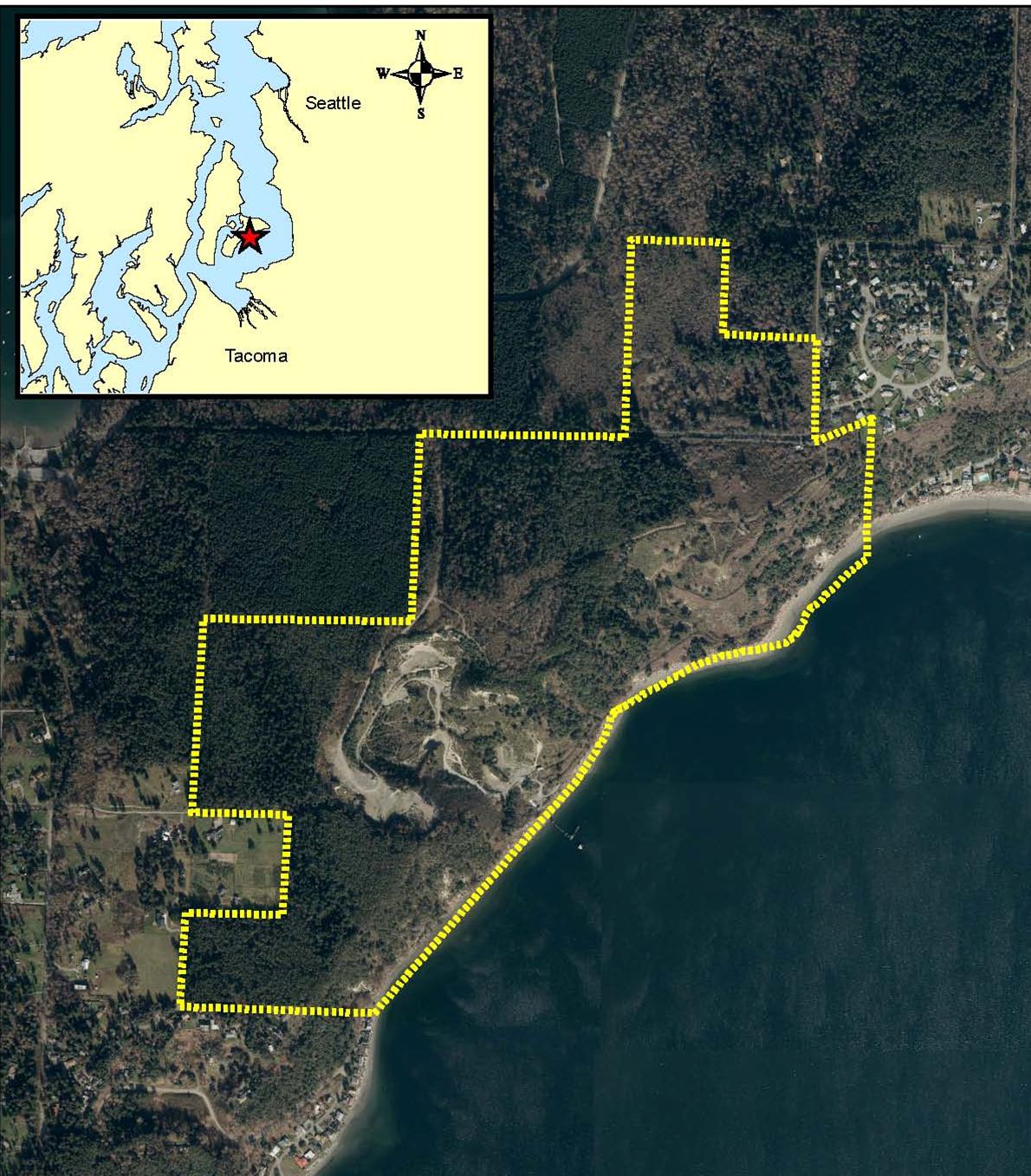 The site is approximately 266-acres in size and is located on the southeast side of Maury Island situated on a sea bluff above Puget Sound. A portion of this property was formally operated as a sand and gravel mine by CalPortland (previously known as Glacier NW). The County acquired this property in 2010 and it is currently open to the public for non-motorized recreation, including walking, jogging, hiking, mountain biking, and equestrian use.
The site contains Madrone forests and has adjacent marine habitat that supports endangered species such as chinook salmon, orca and bull trout. The site's nearly one mile of shoreline is the longest undeveloped stretch of shore in King County. When combined with the County's nearby 320 acre Maury Island Marine Park, the two properties represent the largest public holding of protected marine shoreline in all of Puget Sound.
Environmental investigations at the site have shown that contaminants exist throughout the site as a result of fallout from the former ASARCO Tacoma Smelter smokestack, and from former skeet shooting activities in the area.  Contaminants include arsenic, lead, and polycyclic aromatic hydrocarbons (PAHs) in the soil.  Concentrations exceed levels allowed under the state's cleanup law, the Model Toxics Control Act (MTCA) and must be addressed.
For almost 100 years the Asarco company operated a copper smelter in Tacoma. Air pollution from the smelter settled on parts of King, Pierce, Kitsap, and Thurston counties, creating the Tacoma Smelter Plume. High concentrations of arsenic and lead from the smelter operations have been found in surface soils of Vashon - Maury Island, with properties closer to the former smelter having higher contamination. This site is within the Tacoma Smelter Plume but is being cleaned up on a separate track through the formal cleanup program, under the management of the Northwest Regional Office of the Toxics Cleanup Program. Ecology's Southwest Regional Office is managing the overall 
Tacoma Smelter Plume cleanup.
Ecology funds and manages the 
Soil Safety Program
as part of cleaning up the Tacoma Smelter Plume.
State Environmental Policy Act
1
There may be more documents related to this site. To obtain documents not available electronically, you will need to make a
public records request.
Places to see print documents
Northwest Regional Office

15700 Dayton Ave N

Shoreline, 98133

Please schedule an appointment to view print documents at this location.
Vashon Library

17210 Vashon Highway SW

Vashon Island, 98070

This location may only have print documents available during open comment periods.
| Contaminant Type | | | | | | |
| --- | --- | --- | --- | --- | --- | --- |
| Metals - Metals Priority Pollutants | C | | | | | |
| Metals - Arsenic | C | | | | | |
S

Suspected

C

Confirmed Above Cleanup Levels

B

Below Cleanup Levels
RA

Remediated-Above

RB

Remediated-Below

R

Remediated
This contaminant list was based on our best information at the time it was entered. It may not reflect current conditions at the site.