US ARMY Yakima Training Center
Facility Site ID:
105
Cleanup Site ID:
2301
---
What's New?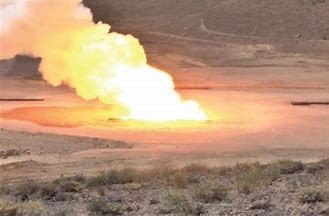 Last updated March 3, 2022
Discovery of PFAS Contamination in Groundwater at the Yakima Training Center (YTC)
In 2021, the Army began contacting property owners to the west of the YTC to request permission to test the quality of drinking water in wells. The wells may have been contaminated with toxic perfluoroalkyl substances (PFAS) due to on-base Army operations.
PFAS, a known human health hazard, are used in aqueous film forming foam, a critical firefighting agent used to quickly suppress petroleum fires at airports and military installations and have been used at the YTC.
Two rounds of well testing have now been completed. In the second sampling effort, the Army identified 184 well owners/residents that could be potentially impacted and made a significant effort to contact all 184 via mail, phone, and door-to-door attempts. Of the 184, only 133 residents served by 86 wells responded and provided permission to conduct well testing. Fifty-one residents did not respond or provide permission; however, if in the future those well owners/residents request testing, the Army will do so.
Combined with the first round of testing conducted in October 2021, the Army has completed PFAS testing on 108 private water wells and identified that 38 water wells had PFAS detection levels greater than the Federal Environmental Protection Agency's (EPA) Lifetime Health Advisory (LHA) of 70 parts per trillion (ppt), impacting 56 total residences. More analysis of the new data is needed, and the Army will determine if a third sampling "step-out" event is needed or required in 2022.
All impacted residents were provided the option of receiving replacement bottled water for drinking and cooking. Water delivery will continue until a permanent safe water supply solution is identified and implemented.
Ecology understands that the discovery of PFAS at the YTC may be concerning to residents living nearby. While Ecology has collaborated with the Army for the past several years to create an official site cleanup order, the Army has opted in this case to proceed without Ecology's participation or oversight. Ecology will be closely monitoring the Army's activities to ensure the investigation and cleanup efforts protect both the environment and human health.
Ecology will continue to communicate with the Environmental Protection Agency and the Department of Defense about a path forward for investigation and cleanup.
Frequently Asked Questions (FAQs)
Q: What is PFAS?
A: PFAS are a group of industrial chemicals used in fire suppression foam used by fire departments on oil, gasoline, and diesel fires. Locations where firefighters practiced using fire suppression foam (such as airports) may have impacted soil and groundwater.
PFAS are water soluble and highly mobile, meaning they can easily contaminate groundwater and can be hard to filter out. PFAS are also used in furniture, carpet, clothing, electronics, and building insulation. While people don't eat these products, we breathe in tiny bits of them that have entered the air. PFAS are found in the blood or urine of over 90 percent of Americans.
Q: Why do we care about PFAS?
A: Certain PFAS can transform into highly persistent perfluorinated chemicals that no natural processes can break down. Once in the environment, PFAS can contaminate water and wildlife. The drinking water supplies in Airway Heights, North Whidbey Island, Issaquah, and at Joint Base Lewis-McChord are contaminated with PFAS above the Environmental Protection Agency's (EPA's) health advisory level. They are also costly to filter out.
Q: Why didn't the Army or the regulatory/cleanup process find this concern sooner?
A: PFAS are known as "emerging" contaminants. In other words, we're just now learning more about this class of chemicals and setting health limits for them.
In 2019, The Department of Defense initiated preliminary assessments for PFAS at military bases across the country. At YTC, several drinking water wells were tested for PFAS chemicals at that time. PFAS was not detected in the drinking water supply wells.
In 2020, the Army conducted a more detailed follow up called a "site investigation". In addition to drinking water supply wells, many groundwater monitoring wells were also sampled. In May of 2021, the Army notified Ecology that PFAS were found above health advisory limits in some of the groundwater monitoring wells and one drinking water supply well at the Selah Airstrip. The Army has since closed the Selah Airstrip well.
Q: How can I protect my family or business from PFAS?
A: Ecology recently published a document:
Keeping Your Home and Family Healthy: Reduce Your Exposure to PFAS
Q: Who should I contact at the Army for more details?
A: Ms. Meseret C. Ghebresllassie; phone: 253-477-3742; email: meseret.c.ghebresllassie.civ@mail.mil
Site Background
The Yakima Training Center (YTC) is a sub-installation of Joint Base Lewis-McChord and is located about 10 miles north of the city of Yakima. It encompasses 327,231 acres within Yakima and Kittitas Counties in central Washington State. The YTC is used by transient soldiers performing maneuvers and weapons training. No residents or workers live on site.

The YTC has been in use for military training since 1941. The Training Center houses several military and federal government operations, including the State of Washington Army National Guard Materials and Training Equipment Site, and the Marine and Army Reserve Centers.
Site Contamination
Since 1980, the Army has owned and operated the YTC as a Dangerous Waste Management Facility. Although the YTC has been in nearly continuous use since the early 1940s, there are few records of waste management practices prior to 1984. Potentially hazardous wastes have been generated at the Training Center in the past. The environmental problems that have been investigated and addressed include various releases of hazardous substances from all historical military and maintenance operations including the use of petroleum, fuels, solvents, lead-acid batteries, and ordnance, explosives, and other pyrotechnics.
Cleanup Activities
A 1995 Facility Assessment
report identified 115 known or potentially contaminated areas within the YTC. About a dozen more sites have been discovered and investigated since that time. By 2013, all the sites had been investigated and cleanup completed at over 100 of the sites. The investigation and cleanup was summarized in a 2017
RCRA Corrective Action Completion Report
.
At this time, the Army needs to investigate, and if necessary, cleanup the remaining 8 Solid Waste Management Units and 13 Areas of Concern. In late 2020, after 18 months of negotiation, Ecology invited the Army to sign an Agreed Order (AO) for investigation and cleanup of the remaining areas. The Army's environmental command in Washington D.C. refused to sign the order. Ecology will be working with our attorneys and the U.S. Environmental Protection Agency on potential next steps, and will be closely monitoring the Army's activities to ensure environmental efforts continue at the site.
Annual reports detailing ongoing groundwater monitoring are available (see "View Electronic Documents" at right). The reports typically cover groundwater monitoring at the Fire Training Pit and Tracked Vehicle Repair/Old Mobilization and Training Equipment Site.
There may be more documents related to this site. To obtain documents not available electronically, you will need to make a
public records request.
Places to see print documents
Yakima Valley Regional Library

102 N 3rd St

Yakima, 98901

This location may only have print documents available during open comment periods.
| Contaminant Type | | | | | | |
| --- | --- | --- | --- | --- | --- | --- |
| Other Contaminant - Base/Neutral/Acid Organics | S | | | | | |
| Halogenated Organics - Halogenated Organics | S | C | S | | | |
| Metals - Metals Priority Pollutants | S | C | S | | | |
| Metals - Metals - Other | S | S | S | | | |
| Halogenated Organics - Polychlorinated biPhenyls (PCB) | S | | | | | |
| Non-Halogenated Organics - Petroleum Products-Unspecified | C | S | S | | | |
| Non-Halogenated Organics - Non-Halogenated Solvents | S | S | S | | | |
| Non-Halogenated Organics - Polycyclic Aromatic Hydrocarbons | S | | | | | |
| Reactive Wastes - Corrosive Wastes | S | | | | | |
| Other Contaminant - Conventional Contaminants, Organic | S | S | | | | |
| Other Contaminant - Conventional Contaminants, Inorganic | | S | | | | |
| Other Contaminant - Asbestos | S | | | S | | |
| Reactive Wastes - Other Reactive Wastes | C | | S | S | | |
| Pesticides - Pesticides-Unspecified | S | | | | | |
| Halogenated Organics - Per- and polyfluoroalkyl substances (PFAS) | | S | | | | |
S

Suspected

C

Confirmed Above Cleanup Levels

B

Below Cleanup Levels
RA

Remediated-Above

RB

Remediated-Below

R

Remediated
This contaminant list was based on our best information at the time it was entered. It may not reflect current conditions at the site.