BSB Diversified Co Inc
Facility Site ID:
2105
Cleanup Site ID:
58
---
Public Comment Period May 09, 2022-June 24, 2022
Ecology invites you to review and comment on the following for BSB Diversified (BSB) located at 8202 S. 200th St. Kent, WA, 98032.

Draft Permit (Permit Lite):
A Permit Lite is a Dangerous Waste Corrective Action Permit that allows cleanup at the site to continue. To clean up the facility, BSB must have this permit. They've operated under this permit since November 2005. It now needs to be reissued.

Draft Periodic Review:
We conduct a periodic review to ensure the current cleanup methods are working.

Draft Public Participation Plan (PPP):
The PPP encourages comment and involvement in cleanup decisions from the community.

When the public comment period ends, we consider all public comments and may change the documents based on them. After considering all public comments, the documents will become final.

Current Status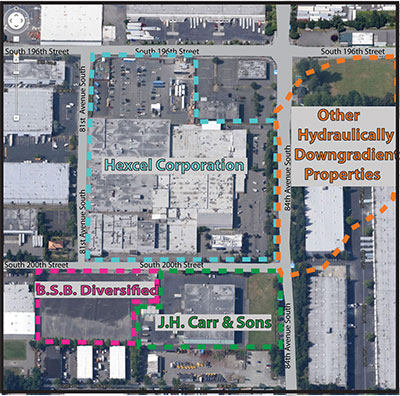 Updated April 25, 2022
We are overseeing cleanup of contamination on the BSB Diversified (BSB) property located at 8202 S 200th St., Kent, WA 98032.
To clean up the facility, BSB must have a special permit, called a Corrective Action Permit. They've had a Corrective Action Permit since November 2005. This permit now needs to be reissued.

We are also conducting a periodic review of the current cleanup methods.

The current comment period is for BSB's reissued permit, draft periodic review, and draft public participation plan.
Site Background
The BSB cleanup site encompasses three properties:
BSB Diversified Company, Inc. (BSB)
Hexcel Corporation (Hexcel)
J.H. Carr & Sons, Inc. (JH Carr)
At this site, BSB is the main source of the contamination. Hexcel and J.H. Carr & Sons, Inc. are neighboring properties. Contamination from BSB polluted the groundwater.

Other nearby properties are also affected by contamination caused by chemical releases from these companies. All of these properties, including Hexcel, are collectively known as the BSB site.

From 1956 to 1987:

· Activities like manufacturing, plating and metal finishing, caused chemical releases on the BSB site.

· The site's metal finishing facilities used significant quantities of chlorinated solvents.

· The site used surface impoundments, settling lagoons and container storage to manage, store, and dispose of dangerous waste.
Contamination
Past operations used a chlorinated solvent, trichloroethylene (TCE), to clean metal parts. TCE spills and leaks contaminated soils and groundwater. Over time, TCE breaks down into cis 1,2-dichloroethylene and vinyl chloride (VC). VC has a very strict cleanup level because it may cause cancer.

Contaminated groundwater is now contained behind an underground clay-soil barrier wall around the entire perimeter of the BSB property. This barrier keeps the contaminated groundwater from leaving the BSB site.

Groundwater and soils are contaminated with chlorinated solvents, degreasing agents:
trichloroethylene (also known as trichlorethene or TCE)
vinyl chloride
cis-1,2-DCE
Cleanup
Past cleanup actions included:
excavation and stabilization of metal plating sludges and soils
excavation of soils contaminated with chlorinated solvents
groundwater hydraulic barrier designed to prevent migration
groundwater monitoring slurry wall for groundwater containment
The Cleanup Process

There are six phases in the cleanup process:

1. Remedial investigation
2. Feasibility study
3. Cleanup action plan
4. Cleanup design
5. Cleanup implementation
6. Monitoring and site use controls

We are currently in the monitoring and site use controls phase. Interim actions can occur at any time. There are many opportunities for public comment throughout the cleanup process.
Site use restrictions called institutional controls are in effect
Institutional controls can be fences, signs, or restrictions on how the property is used. For instance, an institutional control may prohibit installing drinking water wells or disturbing a protective cap that isolates contamination. These restrictions keep the contamination contained and keep people from being exposed to the contamination. The controls are usually listed in environmental covenants recorded with the county.
Periodic reviews are required when institutional controls are required at a site. Ecology conducts reviews to make sure the controls remain effective and the cleanup still protects human health and the environment. We conduct periodic reviews about every five years.
Environmental Covenant
County Recording #:
20120405000599
County Recording Date:
4/5/2012
Covenant Restrictions
Prohibit Soil Disturbance
Restrict All Ground Water Extraction/Well Installation
Restrict Domestic Ground Water Extraction/Well Installation
Media Restrictions
State Environmental Policy Act
1
There may be more documents related to this site. To obtain documents not available electronically, you will need to make a
public records request.
| Contaminant Type | | | | | | |
| --- | --- | --- | --- | --- | --- | --- |
| Other Contaminant - Base/Neutral/Acid Organics | | S | | | | |
| Halogenated Organics - Halogenated Organics | C | C | | | | |
| Metals - Metals Priority Pollutants | S | C | | | | |
| Metals - Metals - Other | S | C | | | | |
| Non-Halogenated Organics - Phenolic Compounds | | S | | | | |
| Non-Halogenated Organics - Non-Halogenated Solvents | | S | | | | |
| Reactive Wastes - Corrosive Wastes | S | S | | | | |
S

Suspected

C

Confirmed Above Cleanup Levels

B

Below Cleanup Levels
RA

Remediated-Above

RB

Remediated-Below

R

Remediated
This contaminant list was based on our best information at the time it was entered. It may not reflect current conditions at the site.