Scott Paper Mill
Facility Site ID:
8122259
Cleanup Site ID:
4520
---
Site Background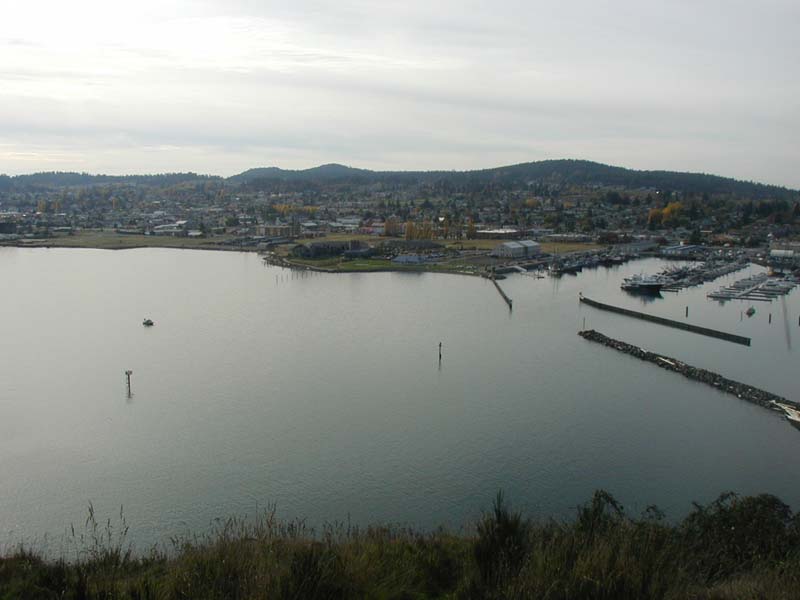 From the late 1800s to 1978, a lumber mill and later a pulp mill operated at the Site. More recently, multiple entities used the Site as a log yard, a staging area for oil field equipment, boat manufacturing, storage and modular home assembly. Seafarers' Memorial Park now occupies the northern part of the Site; the southern portion is mostly vacant.
The mills left behind widespread contamination from their operations, ranging from wood waste to industrial chemicals. For example, the pulp mill used wastes from the lumber mill and discharged wastewater directly to Fidalgo Bay. Soil contaminants found above Washington State cleanup levels included metals, diesel and motor oil-range petroleum hydrocarbons, carcinogenic Polycyclic Aromatic Hydrocarbons (cPAHs), polychlorinated biphenyls (PCBs), and dioxins/furans. Many of these contaminants were also found in groundwater (low levels) and nearby marine sediments.
In 1999, the Port of Anacortes and Sun Healthcare Systems conducted an independent cleanup action to remove petroleum-contaminated soil and wood debris on one of the parcels within the Site. The Washington State Department of Ecology, through the Puget Sound Initiative, worked with the Port of Anacortes and Kimberly-Clark (which had purchased Scott Paper) to clean up the remaining contamination and restore the area's environment. Cleanup was completed in 2012. Now the former mill site features a beautiful waterfront park, which provides unprecedented public access to the shores of Fidalgo Bay. This successful cleanup shows how the public and private sectors can work together to protect the environment and human health, and provide benefits to the local community.
Site Status
The Remedial Investigation/Feasibility were completed for this site along with Cleanup Action Plan in 2009. The cleanup was completed under a Consent Decree in 2012.  Confirmational monitoring is being conducted periodically.
Slide Show Of The Scott Paper Mill Transformation (Open This Page In Internet Explorer If Video Doesn't Load)
Site Documents
A selection of documents are listed below.  Additional electronic documents can be found under the "View Electronic Documents" link located in the right hand column.

Five-Year Review


Site use restrictions called institutional controls are in effect
Institutional controls can be fences, signs, or restrictions on how the property is used. For instance, an institutional control may prohibit installing drinking water wells or disturbing a protective cap that isolates contamination. These restrictions keep the contamination contained and keep people from being exposed to the contamination. The controls are usually listed in environmental covenants recorded with the county.
Periodic reviews are required when institutional controls are required at a site. Ecology conducts reviews to make sure the controls remain effective and the cleanup still protects human health and the environment. We conduct periodic reviews about every five years.
Environmental Covenant
County Recording #:
201311200045
County Recording Date:
11/20/2013
Restrictions/Requirements
Prohibit Soil Disturbance
Restrict Land Use
Restricted Media
There may be more documents related to this site. To obtain documents not available electronically, you will need to make a
public records request.
Places to see print documents
Headquarters

300 Desmond Dr SE

Lacey, 98503

Please schedule an appointment to view print documents at this location.
| Contaminant Type | | | | | | |
| --- | --- | --- | --- | --- | --- | --- |
| Metals - Metals Priority Pollutants | C | C | C | S | C | |
| Halogenated Organics - Polychlorinated biPhenyls (PCB) | C | S | S | S | C | |
| Non-Halogenated Organics - Petroleum Products-Unspecified | C | S | S | S | C | |
| Halogenated Organics - Dioxins/Furans | C | | | | C | |
| Non-Halogenated Organics - Polycyclic Aromatic Hydrocarbons | C | | C | | C | |
| Other Contaminant - Conventional Contaminants, Organic | | | | S | C | |
| Other Contaminant - Conventional Contaminants, Inorganic | | | | C | | |
| Other Contaminant - Other Deleterious Substances | | | | | C | |
S

Suspected

C

Confirmed Above Cleanup Levels

B

Below Cleanup Levels
RA

Remediated-Above

RB

Remediated-Below

R

Remediated
This contaminant list was based on our best information at the time it was entered. It may not reflect current conditions at the site.