Occidental Chemical Corp
Facility Site ID:
1212
Cleanup Site ID:
4326
---
What's New?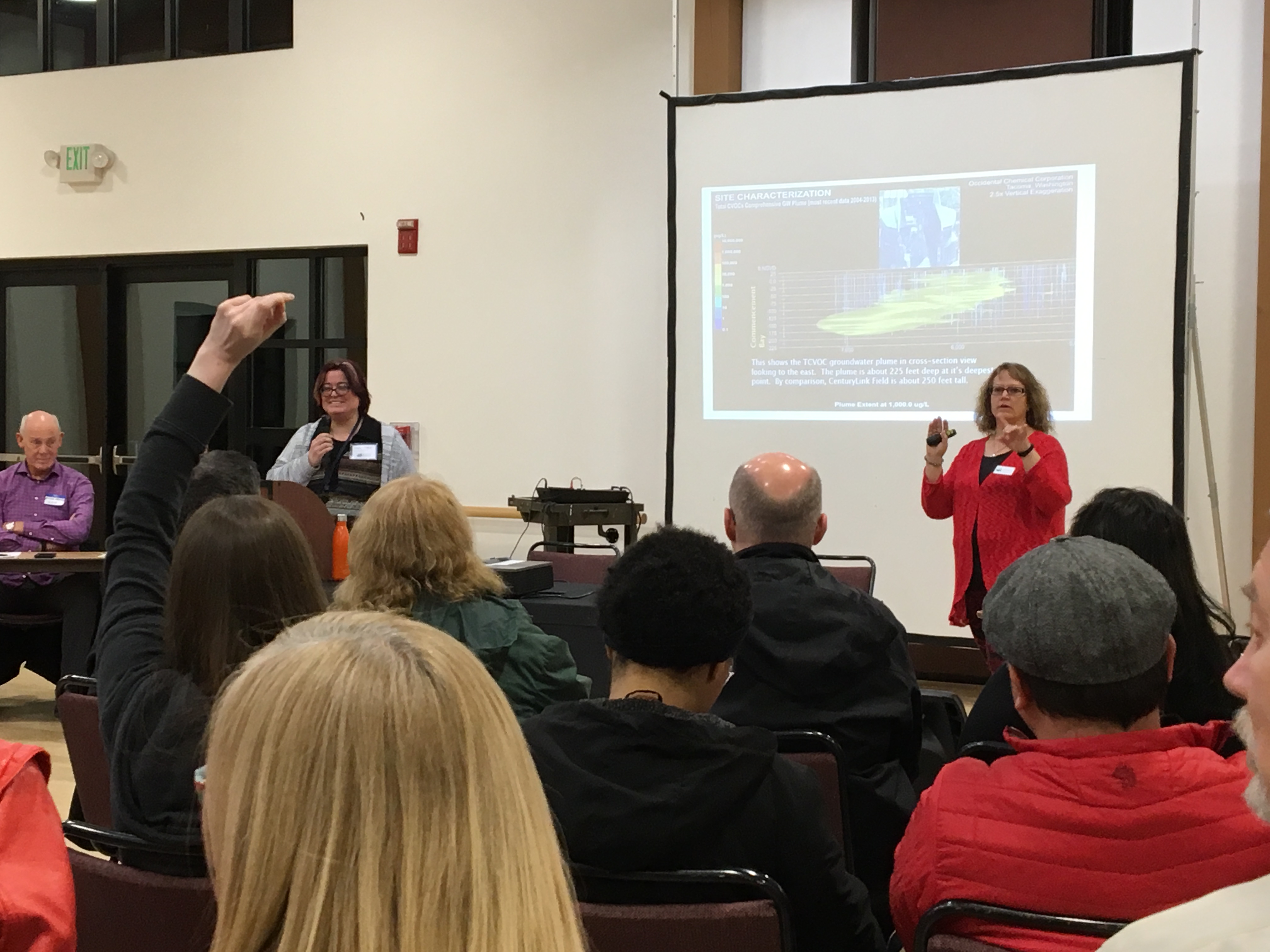 Last Updated Feb. 11, 2020

Final Agreed Order Signed
The Agreed Order (AO) between Ecology and Occidental is now finalized. In the AO, you'll find:

Requirements for Occidental to draft a cleanup action plan.
Seasonal Water Level Monitoring Plan
Monitoring Plan
Work plan for doing a groundwater pumping test

Join the Commencement Bay Cleanup email list
Interested in learning about other Ecology-led cleanups and other actions in the Commencement Bay and Tacoma Tideflats area? We will share news about public comment periods, public meetings, and other cleanup-related information for the cleanup sites we manage in the area. Subscribe to Commencement Bay Cleanup List.
Site Background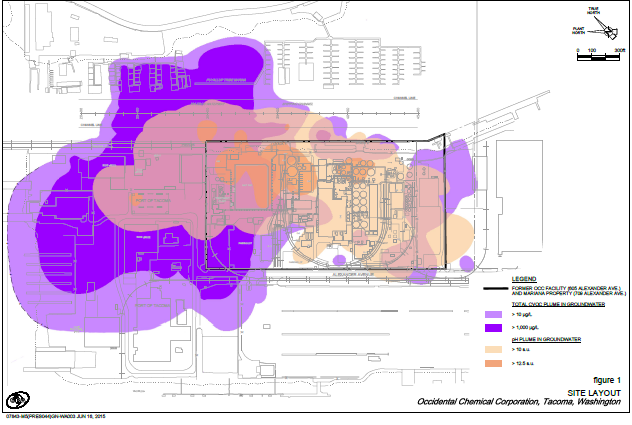 This former manufacturer of chlorine, bleach, and other chemicals for the paper industry is no longer operating. The above-ground features of the manufacturing plant are removed, and little remains of the industrial equipment except for the groundwater treatment plant. Other activities on-site includ ship-building and dismantling and chemical manufacturing.

Primary products produced on-site include:
Chlorine and chlorinated solvents (TCE and PCE)
Caustic soda
Ammonia
Calcium chloride
Muriatic acid.
Site History
Prior to 1920: Undeveloped tidal mudflats.

1920-1936: Area filled with dredge material as part of an upland expansion project.

1929-2002: Occidental Chemical Corporation (Occidental) and its predecessors make chemicals. Other owners and operators during this period include the US Navy, US Defense Plant Corporation, Todd Shipyards, and Pioneer Americas.

1988-2004: EPA conducted a RCRA Facility Investigation and later activities to investigate the site.

2005: Ecology and the EPA issued a Statement of Work for the Administrative Order on Consent. These documents guide site investigation activities.

2006-2008: Occidental demolished former manufacturing facilities.

2005-Present: Occidental conducted numerous investigations to assess impacts to on-Site and off-Site soil, groundwater, sediment, and soil vapor.
Site Contamination
There are hazardous substances in the groundwater, soil, and sediment throughout the site. Contamination is from historical operations and waste disposal practices. Occidental and past owners and operators of the facility contributed to the contamination.
The primary contaminants include:    
Chlorinated volatile organic compounds (CVOCs)
Sodium hydroxide
Salt (sodium chloride)
Metals 
By-products of chlorinated solvent production
Poly-chlorinated Biphenyls (PCB)
Dioxins/furans
Soil contamination
CVOCs, hexachlorobenzene (HCB), PCBs, and metals are present in Site soil. CVOC and HCB impacts are found on Site and beneath the Hylebos Waterway. There are PCBs and metals impacts primarily along the embankment.  
Groundwater contamination

The groundwater is contaminated with CVOCs, dense non-aqueous phase liquid (DNAPL) consisting of concentrated PCE and TCE, and elevated pH.  
The CVOC plume extends to the north from below the Site to the northern end of the peninsula and under Commencement Bay, and to the east below the Hylebos Waterway. The plume gets deeper as it extends away from the Site. The depth of the CVOC plume extends to 160 ft below sea level.  
The pH plume is mostly below the Site, but does extend to the north under the peninsula and to the west under the Hylebos Waterway. The depth of the pH plume extends to 100 ft below sea level. Other contaminants including HCB, PCBs, and metals were found in groundwater, but in localized areas.
Proximity of the facility to the Hylebos Waterway poses unique challenges for measuring the contamination. More than one study was conducted over the years to attempt to understand the hydrogeology. Efforts over the past two years have focused on filling data gaps and supplementing remedial investigation data. 
Impacts Of Contamination
Occidental submitted a risk assessment that has not been formally approved by Ecology. The risk assessment predicts possible affects to the environment or people and is referred to in the draft Remedial Investigation (RI). Ecology will work with a contractor, Ridolfi Environmental, to evaluate the quality of the risk assessment and exposure pathway information as the cleanup process moves forward.
Chemicals could enter the body three ways: breathing dust, touching contaminated soil, or swallowing contaminated soil or groundwater. Based on the current risk assessment, there is no direct risk to the public of exposure to these chemicals. Only authorized persons may enter the site area. Cleanup workers at the site follow a site safety plan developed and overseen by Occidental and its contractors. The plan limits the workers' direct contact with contaminated soil, groundwater, and sediment, or breathing in indoor air at the site and at the neighboring Port of Tacoma property. Air samples taken in the buildings in and near the site showed CVOC levels below industrial standards. This means, in an industrial setting, potential exposure is below a level that would pose a risk to adult humans.  
People that consume resident fish and shellfish from the Hylebos creek may have an indirect risk of exposure. Ecology is addressing this indirect risk and will keep the public updated. Find more information about healthy fish consumption at
Washington Department of Health's website
.
Shellfish harvesting is closed in Commencement Bay due to pollution. Find out more by visiting
Tacoma-Pierce County Health Department's Safe Shellfish program's website
.  
Contamination does not affect public drinking water. If you have a private well nearby, please contact 
Tacoma-Pierce County Health Department
at 253-798-6470.
Cleanup
The EPA oversees the mouth of the Hylebos, Commencement Bay, and sediments areas. Ecology's Hazardous Waste and Toxics Reduction Program leads the investigation and cleanup of the uplands, including the groundwater, surface water, and soil. The two agencies work together on the major milestones of the cleanup process.
A Remedial Investigation (RI) is an in-depth study to:
Determine site features such as groundwater flow, sediment type, and other factors.
Define the type and extent of contamination.
Assess potential effects on human health and the environment.
Establish cleanup criteria.
Ecology held a public comment period for the draft RI from Oct. 23, 2015-Feb. 2, 2016. We received thoughtful questions and comments from the public. The Occidental
Remedial Investigation Responsiveness Summary
is now available.
Ecology approved the RI Report with specific wording changes and the removal of references not previously approved by Ecology or EPA. We kept our edits and deletions clear using red strike outs and end notes in the
Final RI Report
.
While questions remain about certain aspects of the contamination, Ecology believes that sufficient information was collected to proceed to the problem-solving phase of the Feasibility Study (FS).
A Feasibility Study (FS):
Establishes cleanup criteria.
Evaluates cleanup alternatives.
Evaluates cost estimates of cleanup alternatives.
We held a public comment period for the draft feasibility study and other documents in 2017. We received over 150 comments through email, letters, and oral testimony. These comments helped us determine that the feasibility study was complete, but needed some edits. The final Feasibility Study and our Responsiveness Summary are now available. In the Responsiveness Summary, you will find detailed answers to major concerns people raised. You'll also find technical reports and memos we developed after digging deeper into tough technical issues brought up by public comments.

Your comments will help us decide on a final remedy in the next step - the draft Cleanup Action Plan (CAP). We expect the draft CAP will be available for public comment in early 2020.

A Cleanup Action Plan (CAP):
Describes the selected cleanup methods.
States cleanup standards and other requirements.
The CAP is based on information and technical analyses from the RI/FS and public comments and community concerns. A draft of the CAP will be available for public review and comment before it becomes final. The draft CAP is expected in 2020.
There may be more documents related to this site. To obtain documents not available electronically, you will need to make a
public records request.
Places to see print documents
Southwest Regional Office

300 Desmond Dr SE

Lacey, 98503-1274

Please schedule an appointment to view print documents at this location.
Citizens for a Healthy Bay

535 Dock St., Suite 213

Tacoma, 98402

This location may only have print documents available during open comment periods.
Kobetich Library

212 Browns Point Blvd. NE

Tacoma, 98422

This location may only have print documents available during open comment periods.
| Contaminant Type | | | | | | |
| --- | --- | --- | --- | --- | --- | --- |
| Halogenated Organics - Halogenated Organics | C | C | | | | |
| Metals - Metals Priority Pollutants | | | | | C | |
| Halogenated Organics - Polychlorinated biPhenyls (PCB) | | | | | C | |
| Non-Halogenated Organics - Non-Halogenated Solvents | | C | C | | C | |
| Reactive Wastes - Corrosive Wastes | C | C | | | | |
S

Suspected

C

Confirmed Above Cleanup Levels

B

Below Cleanup Levels
RA

Remediated-Above

RB

Remediated-Below

R

Remediated
This contaminant list was based on our best information at the time it was entered. It may not reflect current conditions at the site.